The Cornish Art Gallery - Paintings for sale - Artists J-R
George Herbert McCord ANA (1848-1909)
Evening, St Ives
oil on canvas, 50 x 75 cms, (framed 80 x 105 cms)
signed and dated 1906
£3,950
McCord, who visited St Ives with his sister in 1906, was a highly-regarded American tonalist painter and an Associate of the National Academy of Design.  This is the only known St Ives painting from that visit and depicts the arrival of the fishing fleet in the middle of the night - an event which Folliott Stokes described as one worth making a special trip to see and as colourful as a Venetian festa.  Artists such as the Finn, Helene Schjerfbeck, also waxed lyrical about the sight, but felt it impossible to paint.  Here, in a typically atmospheric piece, McCord captures the boats returning, with lanterns in their bows.  It is housed in a magnificent frame.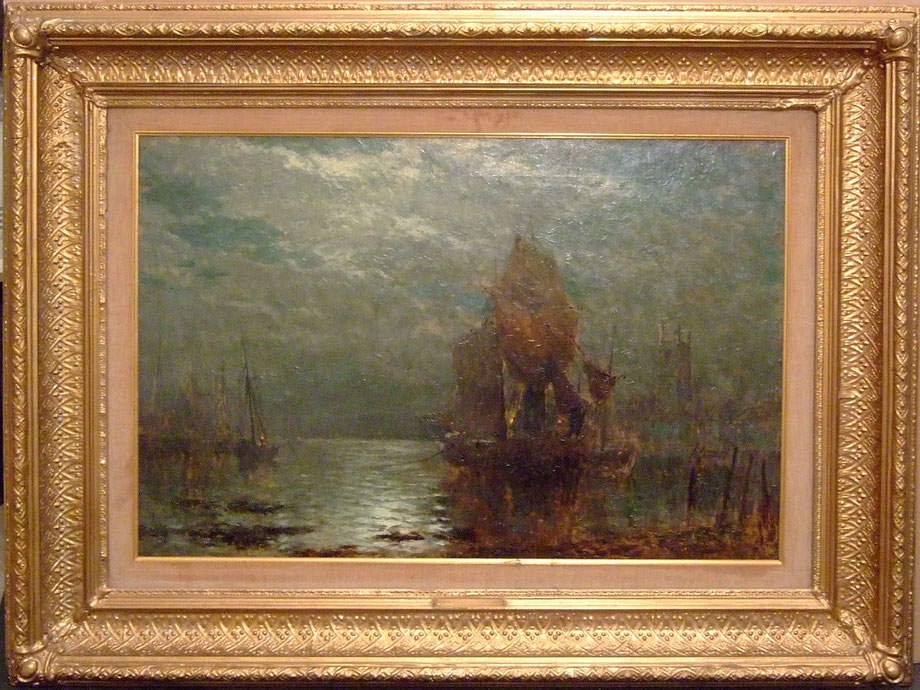 McCord was a noted American landscape and marine painter from New York City. He studied at the Hudson River Institute, the Claverack Academy, and with Samuel F.B. Morse and James Fairman (1866), and first exhibited at the National Academy in 1868. A member of the second generation of Hudson River School painters, McCord travelled widely throughout the United States and Europe during his productive career, and his marine scenes and landscapes were popular in their time for their atmospheric quality and highly developed sense of colour. 
McCord first gained pubic attention in 1875 and became an Associate of the NA in 1880.  He was sought after for landscape commissions, and, in 1890, he was invited by Andrew Carnegie to paint the scenery around his castle in Cluny, Scotland.  He was also among the select group of artists who painted the Grand Canyon for the Santa Fe Railroad. From 1900 to 1901, he was president of the Salmagundi Club.
McCord was primarily a Brooklyn resident, although he maintained studio space at the famous 10th Street Studio Building in Manhattan as well, which was home to many of the greatest landscapists, including Frederic Church. Beginning about 1883, he had another studio in Morristown, New Jersey where he also taught art classes. However, he also travelled extensively, not only in America, but also in Europe, particularly in England, France, the Netherlands and Italy.  Indeed, he spent three years based in Venice and, during his European trips, he was often accompanied by his wife and daughters, two of whom became accomplished artists, and sometimes by his only sister, Alice McCord, who was also a painter.  A long article on St Ives written by Alice McCord and published by The Brooklyn Daily Eagle on 30th September 1906, confirms that George McCord was then in St Ives, having arrived in the late summer, and that other American artists there included Elmer Schofield, Frederick Waugh and David J Gue, who had just left.  The article will have had an important promotional impact for it is headed Quaint Town of St Ives Attracts Many Artists - Picturesque scenery and Fisherfolk, who make interesting models - Climate is ideal for work - Where studios are delightfully situated and are very cheap.
McCord died in New York City in 1909.
oil on canvas, 46 x 60 cms (framed 68 x 78 cms)
£800
The extraordinary story of how a Bath railway porter became one of St Ives' leading landscape and marine painters can be read in Issue 15 of my newsletter, The Siren, in which this painting is illustrated.  Arthur Meade exhibited over sixty times at the Royal Academy and was a key figure in the colony for fifty years (1892-1942).  Whilst principally a landscape painter, he also produced a fine series of marines.  This shows the view back towards St Ives from Clodgy.  The frame has some damage but this is not particularly visible, as the photo below demonstrates.
John Mogford  RI ROI (1821-1885)
A Break in the Clouds - Crossing the Bar - St Ives
oil on canvas, 48 x 78 cms
signed bottom right
old label on back with title and artist's address
£1,950
In addition to capturing a moment of high drama as a barque is swept before a fierce storm, this painting is of great historical interest, for it records the existence of a dangerous sand bar at the entrance to St Ives harbour and also depicts the ill-fated wooden pier in the course of disintegration.  It was storms such as this that made the pier unfit for purpose.  However, the title selected by the artist is informative.  One might expect it to be 'The Wreck of the Barque X', but it seems that what most onlookers are concerned about is whether the ship will get over the sand bar, as if it caught on the bar, it would soon be turned broadside to the wind and wrecked.  One assumes, therefore, that having got over the bar, the ship managed to get to safety.
This work was hung at the Walker Art Gallery in Liverpool in 1885, the year of Mogford's death.  This is likely to be in tribute to him, as I suspect the work dates from earlier, as by 1885 the wooden pier will have been in a worse state.  As Mogford exhibited a work just entitled Crossing the Bar at Glasgow in 1873, it may date from then.
This painting was included in my exhibition Marine Painting in Cornwall from Turner to Alfred Wallis at Penlee House Gallery, Penzance in 2015 and in the 2018 Bude exhibition St Ives - The New Pier - New Perspectives.  It has been cleaned and is in an attractive period frame.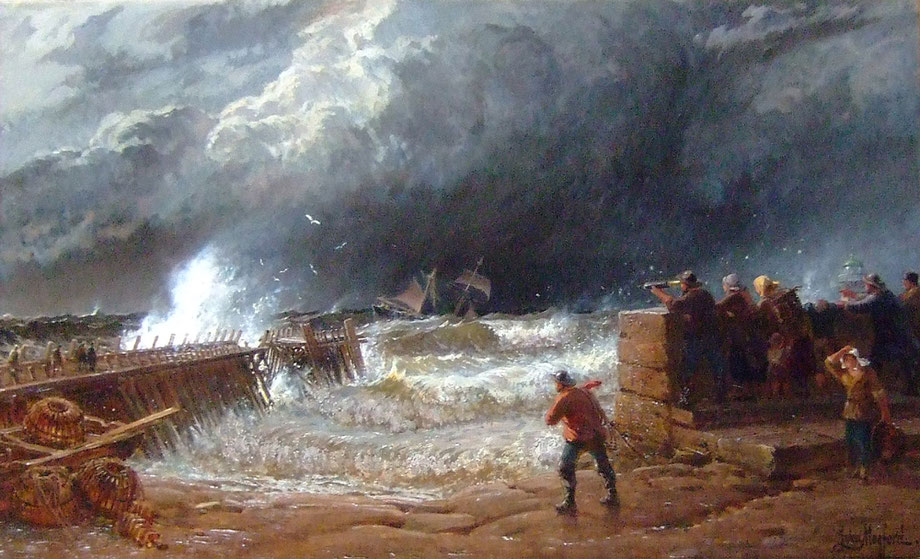 Though the Mogfords were of Devonshire stock, John Mogford was born in London.  His father, Thomas, was an artist, who painted watercolours of architectural scenes.  He studied at the Government School of Design at Somerset House under Dyce, and then at the Royal Academy Schools.  At the age of twenty-one, he married a daughter of Francis Danby (the well known Bristol artist 1793-1861). To begin with his means were so small that he eked out a livelihood by restoring old pictures, but this enabled him to become acquainted with the methods of some of the old masters.  He first exhibited at the Royal Academy in 1846 and at the British Institution in 1847 and, painting in both oil and watercolour, he came to specialise in marine and coastal scenes.  Both the Welsh and Scottish coastlines attracted him initially, but he became a regular visitor to Cornwall from 1862, and from then until his death, he exhibited paintings of Cornwall frequently.  He was elected an Associate of the New Watercolour Society in 1866, and a full Member in 1867, exhibiting there nearly three hundred drawings. He also became a Member of the Royal Institute of Oil Painters in 1883, and won first prize at the Sydney International Exhibition in 1879. The two paintings of St Ives by him that have appeared on the market are oils - this one and a work called Summer Moonrise, St Ives, which surfaced in Denmark.
Public Collections include Bradford (a Cornish scene), Oldham, Sunderland and City of London.
Peter Reading (1933-2002)
Woodland Path in Winter
pastel, 45 x 35 cms (framed 63 x 50 cms)
£275
Having worked in the commercial world of industrial design, Peter Reading retired to Cornwall in 1980 and sought greater spiritual achievement as a painter.  When I was researching the story of the St Ives Society of Artists, I attended a number of contemporary exhibitions of the Society and was particularly taken with Peter's tree paintings, of which I acquired several.  This is a very attractive snow scene in its original frame.  Peter's death just as he was getting well-known and I was beginning to collect his work was a great shock.  Accordingly, he is under-appreciated.
Hugh Edward Ridge  RSMA  (1899-1976)
St Ives Harbour
oil on canvas, 34 x 44 cms (framed 44 x 54 cms)
signed lower right
£325
Ridge was a leading figure in St Ives art in the 1950s and 1960s, and continued the close association between STISA and the Royal Society of Marine Artists, where he was a member and exhibited over 100 works.  This is a sun-filled depiction of a variety of vessels in St Ives harbour, having additional vitality due to Ridge's use of the palette knife.  As one reviewer commented about his work, "with deft strokes of the knife, he has built up the houses, churned up the cliffs and flashed light into the sea and sky". The work has been cleaned.
Hugh Ridge, who was born in Barnstaple, first exhibited on Show Day in St Ives in 1949 and had a one-man show at Downing's Bookshop that September.  He was soon very involved with STISA, taking over from George Bradshaw as Secretary when he had a second coronary in 1952.  He was a staunch traditionalist and was to be a long-serving member of the Committee, serving for six years as Secretary and then nineteen years as Vice-President and Chairman, overseeing a difficult period in STISA's history when representational art was completely out of favour. 
He worked initially from Downunder Studio on Porthmeor Road, the studio given by Helen Knapping to the RBA, then, between 1953 and 1971, from Dragon Studio, Norway Square, before moving finally, in 1972, to Rose Lodge Studio on the harbour beach.
Hugh Edward Ridge  RSMA  (1899-1976)
Blisland
watercolour and ink, 20 x 30 cms (framed 37 x 48cms)
signed lower right
£140
The large, attractive green at Blisland on Bodmin Moor indicates that the village had Saxon origins and the church, rebuilt in the 15th century in the Perpendicular Gothic style, is thought to be on the site of an original Saxon church.  Surprisingly, this delightful setting did not seem to attract many other artists and so it is a rare subject.  As can be seen, Ridge's intricate ink and watercolour work is very different from his style in oils, but has its own considerable charm.  It has been remounted and reframed.