Home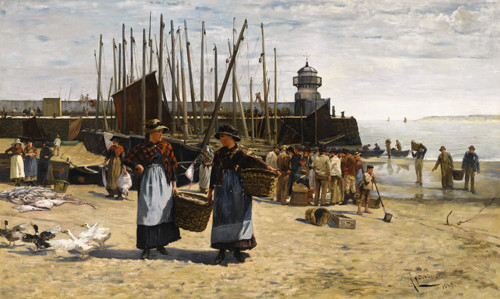 Welcome to 
stivesart.info 
the website of Art Historian 
DAVID TOVEY 
who specialises in St Ives art, the Newlyn School
and the other Cornish art colonies of
Lamorna, Polperro and Falmouth in the period prior to 1950
David's principal speciality is representational art in St Ives and he has published eight books on the subject, of which five have been major, ground-breaking surveys of St Ives art, namely
St Ives - The Dawn of the Colony
Pioneers of St Ives Art at Home and Abroad 1889-1914
Sea Change - Fine and Decorative Art in St Ives 1914-1930
Creating A Splash - The St Ives Society of Artists 1927-1952
St Ives (1860-1930) - The Artists and the Community - A Social History
Since 2000, David has also curated numerous exhibitions on Cornish art for Tate St Ives, Penlee House Gallery and Museum, Penzance, Royal Cornwall Museum, Truro, Nottingham Castle Museum, Worcester Art Gallery, Cheltenham Art Gallery and various other Art Galleries around the country. 
David's most recent projects have been:-
1. Groundbreaking research into the history of Polperro as an art centre, leading to the publication in March 2021 of the two volume Polperro - Cornwall's Forgotten Art Centre, and an exhibition on the subject at Falmouth Art Gallery that ran from 2nd April to 18th June 2022.  For more details on this and current exhibitions in Polperro, see the Art in Polperro page.
2. A two volume book, Lamorna - An Artistic, Social and Literary History, published in 2022, and an exhibition Lamorna Colony Pioneers at Penlee House Gallery, Penzance, which ran from 3rd May to 30th September 2023.  David has been since 2012 Editor of The Flagstaff, the magazine of the Lamorna Society, which promotes the artists and writers who have been inspired by the beauty of the Lamorna Valley in West Cornwall.  The books were published to celebrate the 25th Anniversary of the formation of the Society.
3. A revised and much expanded edition of St Ives - The Dawn of the Colony published in March 2023 in conjunction with the St Ives Museum exhibition, Discovering St Ives - Early Visiting Artists, which ran from 1st April to 31st October 2023.  This featured depictions of St Ives from 1790 to 1890.  David's article on this exhibition for art cornwall can be read here.
4. Following the success of the 2023 exhibition at St Ives Museum, which resulted in a 30% increase in visitors, David is now working with the Museum on an exhibition Capturing the Light - St Ives Artists 1885-1914, which will run from 1st April to 31st October 2024.
An interview with David for the art cornwall website, looking back at his various projects since the 1980s can be viewed here.
Thanks for your interest.