Art in Polperro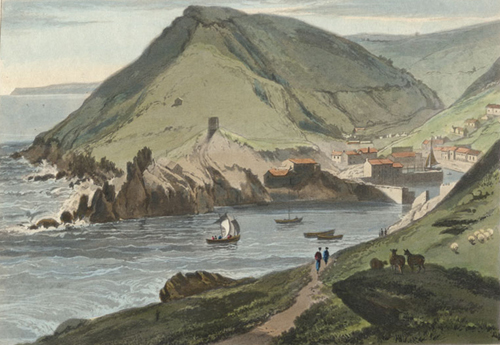 "Surely there cannot be another place of such quaint rarity
- medieval charm set in a gem of Cornwall's most rugged rock scenery
- unique and inimitable."
(Western Morning News, 12/8/1925 at p.3)
Since the 1880s, Polperro has been the haunt of countless artists and yet nothing has been written on its development as an art centre and its particular characteristics.  There is not even a list of artists known to have worked there.  This seemed particularly strange given that paintings of Polperro by distinguished foreign artists kept on appearing at auction.  Accordingly, since 2018, I have been researching the subject in depth, and, in March 2021, published two books on the subject - one dealing with the pre-1920 period and one with the post-1920 period.

These were due to coincide with an exhibition Polperro - Cornwall's Forgotten Art Centre that I was curating for  Falmouth Art Gallery but this has now been postponed to run from 2nd April to 18th June 2022.
The story that I have uncovered is totally fascinating, showing that Polperro has a rich artistic heritage that deserves to be better known and more widely appreciated.  Details of the books are as follows:-
Polperro - Cornwall Forgotten Art Centre - Volume One - Pre-1920     
(ISBN 978-0-9955710-1-3) (256 A4 pages, price £24), and

Polperro - Cornwall Forgotten Art Centre - Volume Two - Post-1920   
(ISBN 978-0-9955710-2-0) (346 A4 pages, price £28)
£50 for the pair - postage £3-50 each
For the range of artists and subjects covered in Volume One, click on link for Contents
For the range of artists and subjects covered in Volume Two, click on link for Contents
Polperro Exhibition at Falmouth Art Gallery
The exhibition Polperro - Cornwall's Forgotten Art Centre, curated by David Tovey, was held at Falmouth Art Gallery from 2nd April 2022 to 18th June 2022 and proved an astonishing success, with large visitor numbers and enthusiastic comments.
Visitor comments :-

"Astonishing – admirably researched and presented"

"An amazing collection"

"Fascinating – beautifully curated"

"Brilliant exhibition"

"Amazing – absolutely fabulous"

"Superb exhibition
– beautiful work and extremely interesting"
About 40 works from the exhibition from David's own collection will be on view during the season each year at Polperro Methodist Church, 62 Fore St, Polperro, Looe PL13 2RP.  Do pop in if in Polperro.
FEEDBACK RE BOOKS


From Polperro Heritage Books website :

 'Art historian David Tovey … has produced a handsomely illustrated publication, Polperro: Cornwall's Forgotten Art Centre, encompassing work by artists spanning two centuries. Not only are both volumes fully illustrated with colour plates throughout, but the author weaves an enormous amount of well-researched social history in with an account of the artists' work featured."

From Polperro Arts Foundation newsletter

 "David Tovey's two-volume work is now out. At 256 A4-size pages for Volume One and 346 pages for Volume Two, it's a comprehensive and beautifully illustrated history of the village as seen through the eyes of the numerous artists who have worked here, together with outlines of the artists' lives and anecdotes about their experiences in Polperro. And not only artists. The books also include extracts from novels, short stories and diaries by or concerning a number of well-known authors who have made the village their home or an occasional retreat. This is an excellent piece of work full of well-researched information and highly recommended for all those who have an interest in the history of Polperro or Cornish art."
From Susanne Forrest, Brighton
'David's books give the first real exposure to the extraordinary number of artists - and writers etc - who have worked in and on Polperro over the past 150 plus years, covering social changes in this time. The information is encyclopaedic and covered extensively with high quality images.'
 
From Bill Wright, Saltash :

"The quality of the art work is outstanding and I doubt there is a more comprehensive work on the subject anywhere. For anyone interested in Polperro and Art or just Polperro or just Art,the two volumes are well worth every penny"

From C.H., Hornchurch

"These two volumes give both the connoisseur and the interested amateur an insight into the hitherto unexplored world of Polperro as a centre of art. The high production values of the publication mean that we can browse through high quality reproductions of hundreds of paintings, etchings and photographs of Polperro and its artists. What a pleasure it is to identify locations in Polperro which, even today, can be easily recognised. It has been a delight to open these two volumes and learn about the history of art in Polperro. David has packed years of meticulous research into  these two books. Some of the modern artists are still fondly remembered in Polperro and are still spoken of with affection. I've thoroughly enjoyed dipping into these books and I know I've many happy hours ahead reading about my favourite place - Polperro."


From Roger Matthews, Portishead
 "A lavishly illustrated art tour of Polperro, wrapped around an absorbing social history of this delightful Cornish fishing village".
From CW, Winchester
This picturesque spot has received scant mention in otherwise comprehensive works on this subject, but with the appearance of these volumes we meet not only a few of our old friends, like Thomas and Caroline Gotch, but a host of other talented souls, including many visitors from abroad. And what cracking works they could produce. David Tovey's story of Polperro is a super addition to our knowledge of art in Cornwall.
From TF, Notts
"Having visited Polperro as a child and in recent years, it typically represented a picturesque Cornish fishing village with a rich history of tales of smuggling and privateering which flourished until the end of the 18th century. However, other than having seen a few representations of the harbour by Herbert Butler, I had little knowledge of the existence of any artistic community within the location. In David Tovey's richly illustrated two volumes, he traces the establishment of a lesser known artistic community, how the colony developed over the decades from the mid-19th century exploring, how it inspired the foundation of a destination for visiting artists and students and how it influenced and contributed to the West Country artistic heritage. Through the many representations of the village, the book not only provides an interesting pictorial and historical account reflecting the changes to the fishing village, but it also introduces us to the often transient artistic communities who portrayed and celebrated the harbours, higgledy-piggledy cottages, steep winding streets and rugged landscapes of Polperro which until now has been sadly unrepresented".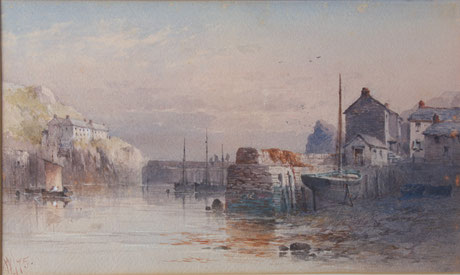 Early Plymouth links
The completion of the rail link down to Penzance in 1859 on the completion of the Saltash bridge, so often considered the key event in Cornish art history, had no impact at all on Polperro, as it was just as difficult to get to.  Artists either had to risk going by boat along a treacherous coast or go by uncomfortable horse bus on a very hilly journey from Devonport.  Equally, it was just as difficult to get from Polperro to other major scenic spots and so in the 1860s and 1870s one finds most artists who painted in Polperro had a Plymouth link.  These included Samuel Cook of Plymouth and his son, William, Charles Brittan Snr, William Gibbons, William Henry Pike, Richard Hoskin etc.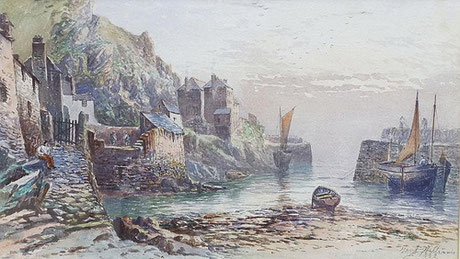 It seems that Harry John Williams may be one of the first non-local artists to have been resident in Polperro.  From 1882-7, he is recorded in exhibition reviews as "of Polperro".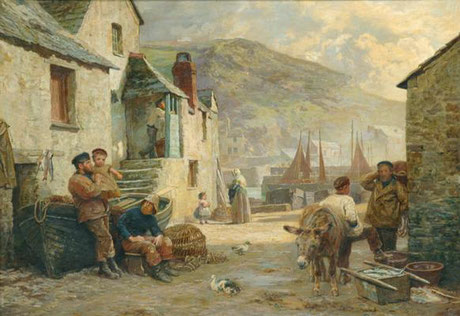 James Clarke Waite exhibited a painting of Polperro at SBA in 1883, before emigrating to Australia in 1885.  This depicts 'The Jew's House', Lansallos Street.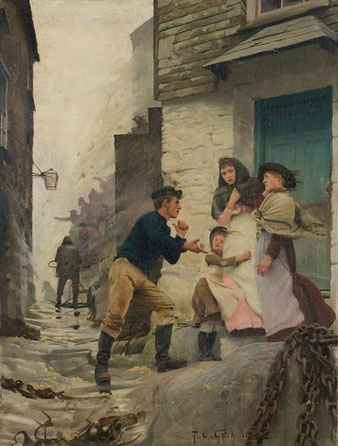 Thomas and Caroline Gotch were based in Polperro from July to November 1884, during which time Thomas produced three major works, the largest of which was News from the Beach.  He later repainted this in watercolour with the title Danger.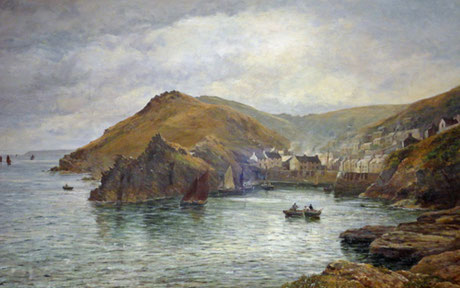 William Borrow's 1885 painting of Polperro was one of the first to be hung at the Royal Academy.  A local critic rated it higher than Stanhope Forbes' A Fish Sale on a Cornish Beach!
Mouat Loudan's Fish Sale, Polperro caused a stir at the Royal Academy in 1888 and, as it was illustrated in the Illustrated London News, it will have had a significant impact on the popularity of Polperro as an artist destination.  I have for many years wondered where the original might be and, to my shock and horror, I have just discovered it in a filthy, ripped state, mis-catalogued as by an unknown artist called 'Ludan' at, of all places, the Royal Cornwall Museum, Truro.  Please get in contact if you would like to help getting it restored.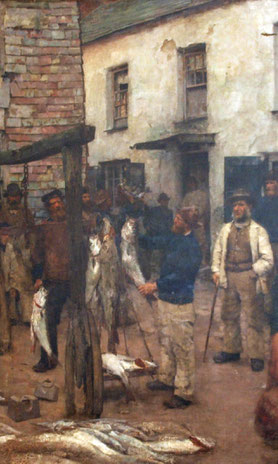 Donations to the restoration of the Mouat Loudan can be made :-

1. By making an online payment to Account Name : Royal Institution of Cornwall ; Account No : 36210960 ; Sort Code : 30-98-76, making certain the reference for the payee includes the words 'Loudan Appeal'.

2. By sending a cheque made payable to 'Royal Institution of Cornwall  - Loudan Appeal' to Bryony Robins at the Royal Cornwall Museum, 25 River Street, Truro, TR1 2SJ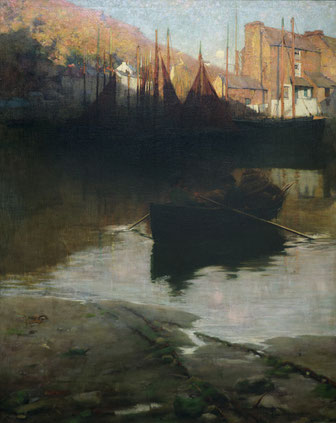 William Llewellyn's Twixt Night and Day also caused a stir at the Royal Academy in 1888, albeit no critic was aware of which Cornish harbour it depicted.  Since 1927, this has been owned by Dunedin Public Art Gallery in New Zealand.  Llewellyn went on to become President of the Royal Academy.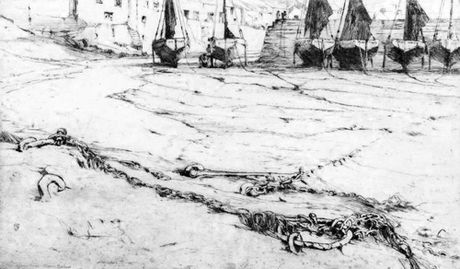 In 1888, the young Frank Short, who went on to become one of the most highly regarded figures in British printmaking, produced a series of etchings of Polperro, which are in the collections of Art Galleries around the world.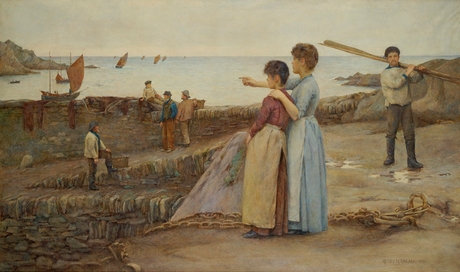 Henry Meynell Rheam is now associated with the Newlyn Colony of Artists but he spent 1889 at 'Seaside Cottage'. The Warren, with Herbert Butler.  Lytham St Annes Town Council own two similar depictions of Polperro by him.  Being a good cricketer, he was asked to play for the Newlyn cricket team as a 'ringer' in 1890 and decided to settle there.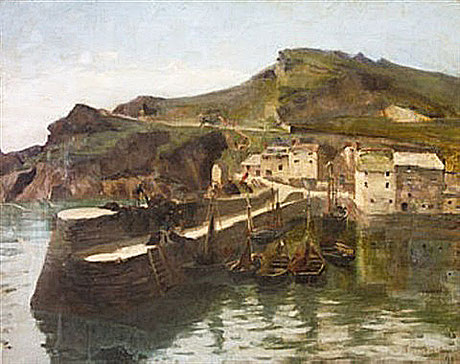 Chrissie Ash was one of the thirty or so female students who accompanied Paris atelier master, Auguste Delécluse to Polperro for three months in the summer of 1894.  Her painting shows the rounded end of the Outer Quay before it was lengthened in the major reconfiguration of breakwaters in 1897.
During his visit, Delécluse, who himself exhibited a painting of Polperro at the Paris Salon in 1895, wrote,
"An artist need not go out of his way to find material for his brush and pencil as everything is near at hand - there are pictures at every turn.  It is simply magnificent in every way and someone wishing for models will find the Polperro children superb and the Cornish fisherman a splendid type of manhood, picturesque and courteous to strangers."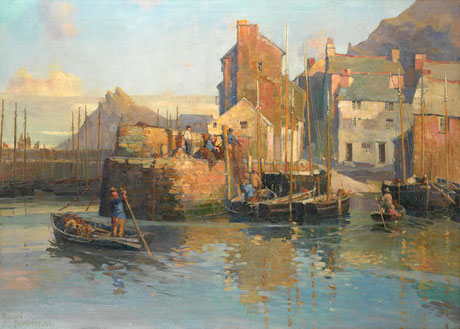 Reginald Frampton, best known for his Pre-Raphaelite depictions of attractive females in fantastical settings, exhibited a series of paintings of Polperro at RBA in 1896-7.  This is a stunning depiction of a classic vista of Polperro and is housed in an impressive frame.  It will be the cover image of Volume One of my book, Polperro - Cornwall's Forgotten Art Centre.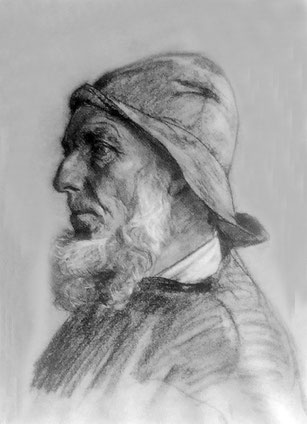 In 1899, Polperro was visited by the German artist, Carlos Grethe, best known for his coloured lithographs.  The one that he did of Polperro was a view across the harbour from Chapel Steps, with gulls lined up on the ridge tiles of the roofs.  However, he also did some portrait sketches of local fishermen and some other sketches around the harbour.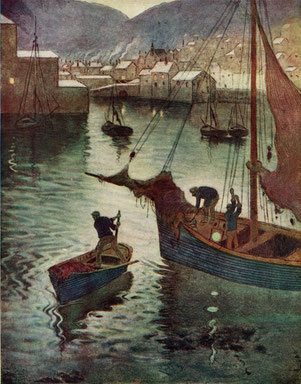 The American artist, Edward Ertz, was a teacher at the Delécluse Académie in Paris and, in 1900, came to Polperro with a student, Ethel Horsfall. They fell in love not only with each other but also with Polperro and so settled there after their marriage and ran a well-regarded painting school until 1904.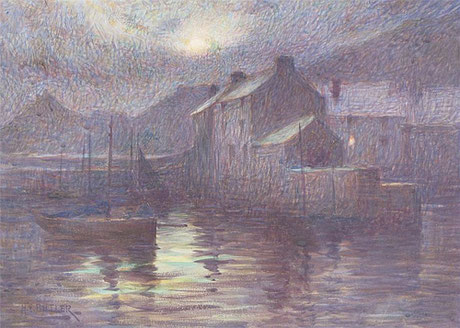 Herbert Butler first visited Polperro in 1884 and went on to marry Sophia Pond, one of the daughters of the family with whom he stayed.  They settled in Polperro in 1900 and he was one of the few long-term residents, dying in 1931.  After initially producing some large oil paintings, he found his true calling as a water-colourist and was particularly fond of moonlit scenes.  He was also a great advocate of drawing in lead pencil and produced a fascinating article on the subject for The Art Journal in 1910, when he had a London exhibition of his pencil drawings of Polperro.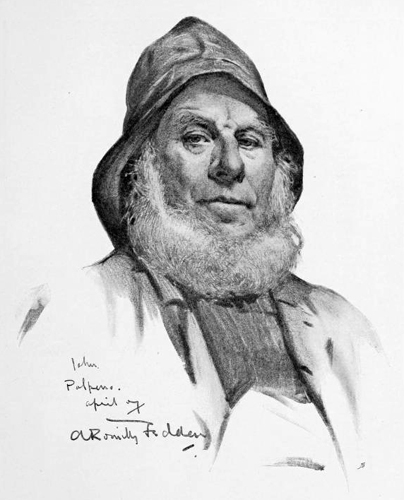 In 1907, Romilly Fedden teamed up with Herbert Butler to establish a painting school in Polperro and he had a series of fine pencil drawings of the village and its inhabitants published in 'The Studio' that year.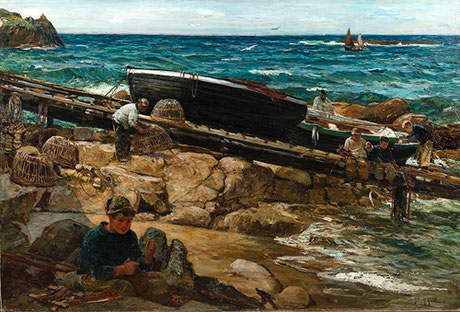 There are more paintings of Polperro in public collections by the Scot, John Robertson Reid, than by any other artist, and the vast majority of his exhibits from 1900 to his death in 1926 are Polperro subjects.  These tended to feature the fisherfolk and their children at work or play on the rocks around the harbour, with broadly painted colourful seas.
Frank Gascoigne Heath and his wife Jessica lived in Polperro from 1910 to 1912, during which time Frank produced a succession of paintings of Polperro.  Works such as Children on the Rocks (Cartwright Hall, Bradford) reveal the clear influence of his earlier association with Laura Knight at Newlyn.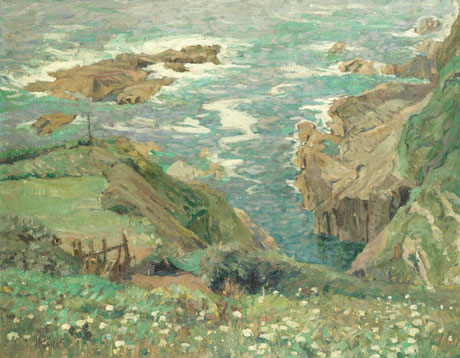 John Anthony Park, who was closely associated with the St Ives art colony for more than fifty years, spent a good deal of time in the years 1912-4 in Polperro.  A particularly fine work is that held by the Alfred East Gallery at Kettering.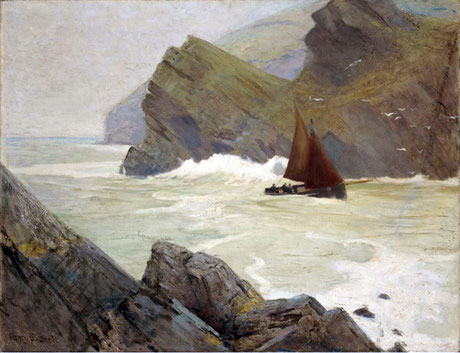 During the years 1903-1914, the American artist, Henry Bayley Snell, regularly brought parties of students to Polperro and his own paintings of Polperro won prizes at American exhibitions.  Accordingly, Polperro was visited by a large number of American artists.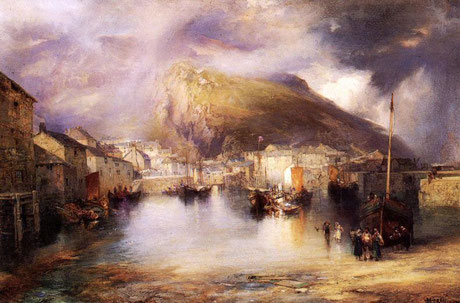 In 1906, Thomas Moran, known as 'the Dean of American Painters', visited Cornwall, following in the footsteps of J.M.W Turner, who had been a huge influence on his career.  From sketches done during this visit, he completed depictions of Tintagel, Land's End and Polperro, albeit Turner had not visited Polperro.  It seems, therefore, that Moran visited Looe, which Turner had depicted, and, whilst there, popped across to Polperro, which he considered a better subject.  Whilst the painting captures the spirit of Polperro, the detail included is largely imaginative.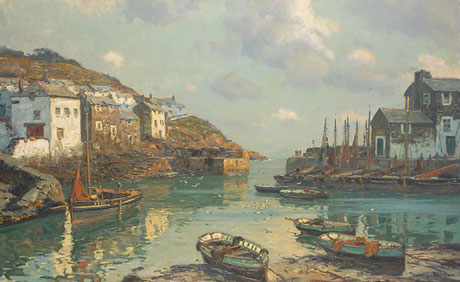 The famous German artist, Claus Bergen, made his initial reputation with a series of paintings of Polperro resulting from regular visits to the village from 1908-1913. 
Cornelius Wagner was another German visitor, whose painting Low Tide Work, Polperro (RA 1911) was acquired by Gallery Oldham.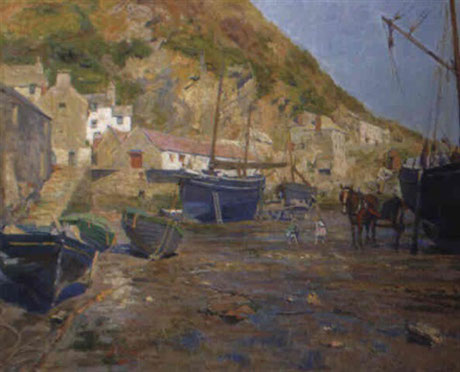 The highly regarded Dutch artist, Hendrik Jan Wolter, first came to Polperro in 1909 to visit Frank Heath, whom he had befriended when they studied together in Antwerp.  He returned most years prior to 1914 and several times during the 1920s and early 1930s.  A painting of Polperro by him is the cover illustration of his biography.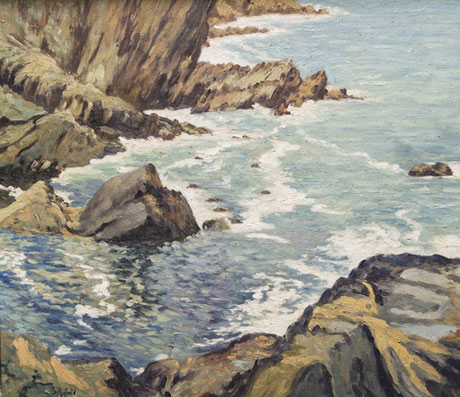 Elmer Schofield was an American artist, who had a significant impact on the popularity of Cornwall as a destination for American artists, as he spent part of most years from 1903-1944 in Cornwall.  He painted in Polperro in the years 1912-4 and this work shows the bottom of Peak Rock from the western side of the harbour entrance.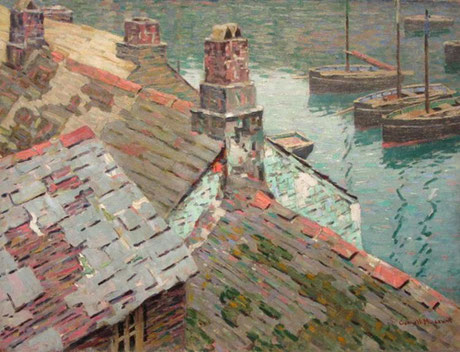 George Macrum was an American artist and this work was hung at the National Academy, New York in 1914.  The green wall appears in other paintings as well.  It is shows how difficulties of access and shortage of funds often led to Polperro roofs being in disrepair.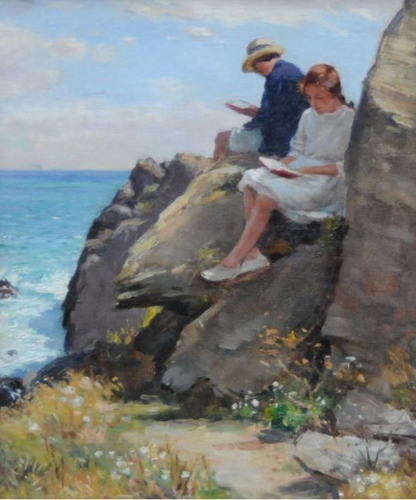 William Kay Blacklock and his artist wife Nellie, whom he repeatedly used as a model, settled in Polperro in 1922, but he died in 1924.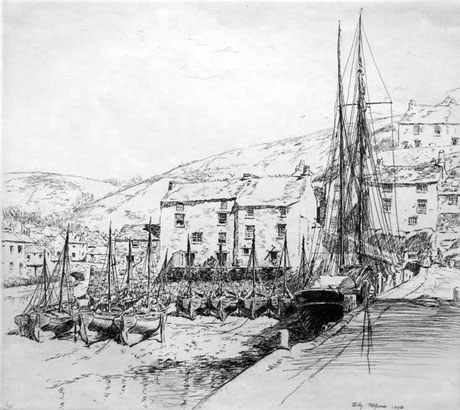 The 1920s was the heyday of the print market and there are various etchings of Polperro from this period.  These include two by the famous American printmaker, Kerr Eby, who visited in 1925.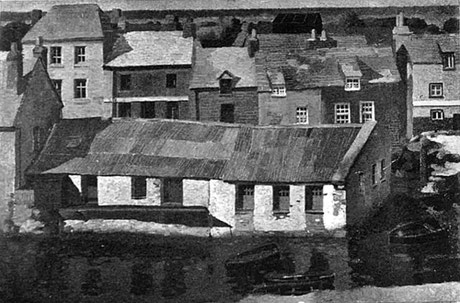 Teng-Hiok Chiu is now lauded as China's first Modernist Painter, but, during the 1930s, he first came to prominence in this country with a series of paintings of Polperro, which were included in two solos shows at the Fine Art Society in 1930 and 1936.  He also had paintings of Polperro hung at the RA, RBA and other shows around the country.
Do get in contact if you have a painting of Polperro by Chiu as they are proving difficult to find.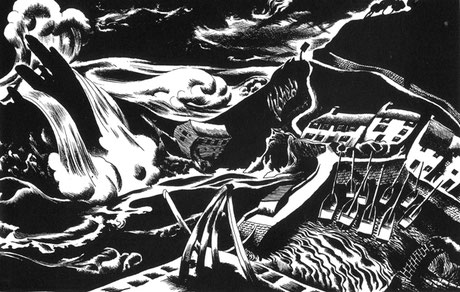 The illustrator, Arthur Wragg, first visited Polperro in 1924 with his great friend Frederick Roberts Johnson and they returned most summers, for as much as six months at a time, throughout the late 1920s and 1930s.  Wragg initially produced postcards and other work for the Polperro Press but became famous worldwide after his ground-breaking illustrated book, The Psalms for Modern Life (1933), which contained stark, satirical illustrations on the issues of the day.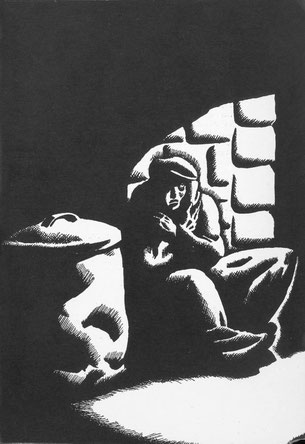 The Polperro Polemicists
This is a phrase that I use to describe the work of Arthur Wragg, Walter Greenwood and Frederick Roberts Johnson in their fight against social injustice, poverty, fascism and war-mongering in the 1930s.  Whilst the subject-matter had nothing to do with Polperro, much of the work was produced in Polperro and they are credited with raising awareness that a more caring form of Government was required, leading to the introduction of the Welfare State.  In addition to this considerable achievement, Wragg developed a novel style of book illustration with stark poster-style imagery in deep chiaroscuro.  Indeed, his books, such as 'Jesus Wept', 'Seven Words' and 'Thy Kingdom Come', which were full of hard-hitting satirical images, were novel in themselves as a way to wage a campaign.  As his concerns proved to be well-founded, he gained the accolade of being a 'prophet'.
Walter Greenwood, who settled in Polperro in 1936, had already published in 1933 Love on the Dole, which was to be a huge success during the 1930s and 1940s as a book, play and film.  In 1937, Wragg and he combined to produce The Cleft Stick, a selection of the original short stories on which the novel had been based plus a couple of new ones based on Greenwood's own childhood, with archetypal illustrations by Wragg.
In the late 1930s, Wragg and Roberts Johnson were early contributors of caricatures, cartoons and satirical illustrations for the new left-wing paper, The Tribune.  Indeed, Wragg produced the first fifteen cover illustrations.
Wragg's friend, Frederick Roberts Johnson, was also an illustrator.  He tended to use the pseudonym, 'Essex', albeit he also used 'Sax' for his work for 'The Tribune'.  Having married in 1942, Roberts Johnson settled in Polperro and produced an astonishing body of work in oils and pastels in a range of different styles.  However, these paintings are completely unknown as he never exhibited and never sold.  My book will prove a revelation as regards this artist.  Below are some examples of his caricatures of the local fishermen, done in a style similar to that he used for 'Punch' in the 1930s.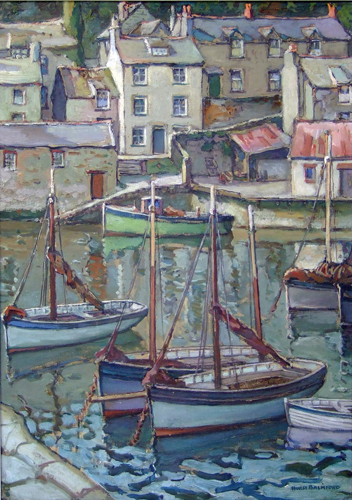 Hurst Balmford's first Royal Academy exhibit in 1917 was a depiction of Polperro and he had several other depictions of it hung there in the 1930s. Balmford had been Head of Morecambe School of Art and was based for some time in the late 1920s / early 1930s in St Ives.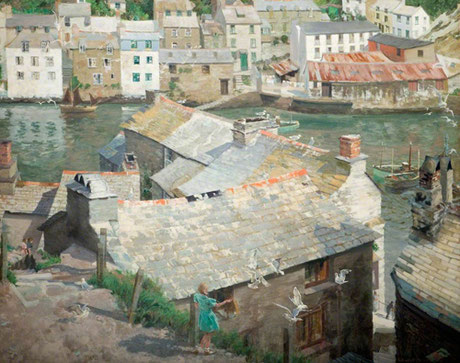 Wolverhampton Art Gallery own a series of paintings of Polperro by W H Dudley, originally bequeathed by his widow to his home town gallery at Bilston.  Dudley returned to Polperro a number of times in the late 1930s and several of these works are Royal Academy exhibits of considerable quality and interest.
Oskar Kokoschka, the famous Austrian Expressionist painter, spent from August 1939 to June 1940 in Polperro and works that he executed in the village are held by Tate Gallery, the Courtauld Institute and the Fitzwilliam Museum, Cambridge, with Polperro I and The Crab being considered some of his most important paintings.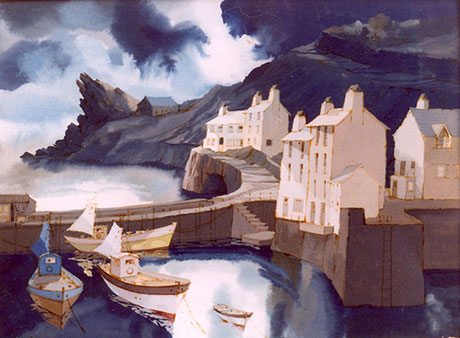 Frederick Cook, who had been a fireman artist during the War and who has a number of works in the Imperial War Museum, settled in Polperro after WW2 and lived there for the rest of his life.  He produced decorative and imaginative depictions of the harbour, full of curving lines.  Some of his best works capture brooding conditions before storms.  He is represented in the collection of the RWA.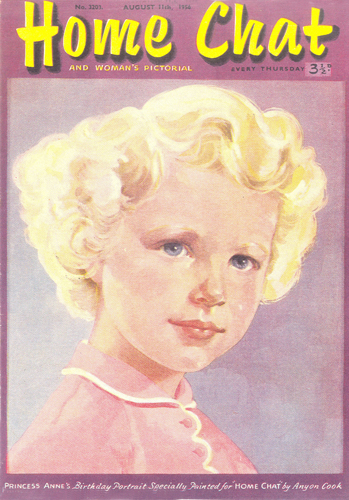 Anyon Cook, Frederick's wife, was a talented portrait painter, who was commissioned to paint Bishops of Truro, judges and other leading figures.  Her portrait of Polperro writer, Walter Greenwood, is in Salford Art Gallery.  Her most high profile sitter, though, was Princess Anne, whom she depicted for the magazine 'Home Chat' to mark her sixth birthday.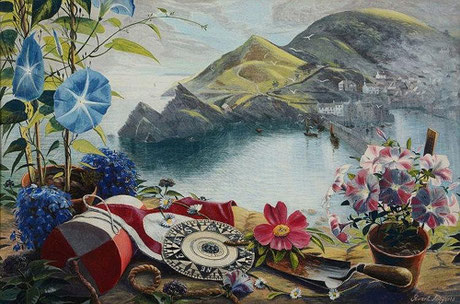 Stuart Armfield settled in Polperro in the 1942, living at 'Tycara' until 1979.  He advocated working in the neglected egg tempera medium on a white gesso background, and wrote books and did television documentaries on the subject. He was primarily a still life painter, but these are very distinctive, particularly as his subjects tend to be placed in other worldly settings.  However, he also produced some paintings glorifying in the local scenery, particularly the view from his home.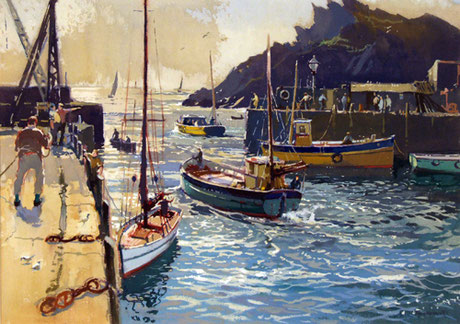 Jack Merriott VPRI, ROI, RSMA, PS lived at 'Island House' in the 1950s and 1960s and is particularly well known for his railway posters - the National Railway Museum have over 90 works by him.  Polperro featured on his 'Cornwall' posters of 1950 and 1952.  He also was an inspirational art teacher, known as 'The Wizard of Watercolour', and he ran painting courses and conducted painting holidays both in this country and abroad and initiated Pitman's correspondence course on watercolour painting, which was so popular that he had to ask Frank Sherwin, Ernest Savage and Oliver Bedford to help out.  In addition to several books on watercolour, he also produced one on pastels.  He also was one of the official artists of The Sphere illustrated newspaper and his most prestigious commission was recording the Coronation of the Queen in 1953.  He was an early President of the East Cornwall Society of Artists, which now has its Gallery in Polperro.