Art in Polperro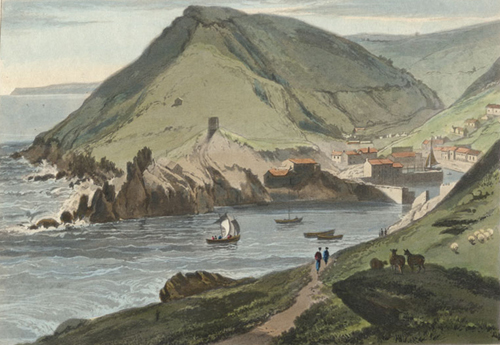 I find it strange that no-one seems to have written anything on Art in Polperro, let alone conducted a detailed survey, and so, during 2018, I intend to remedy that deficiency.  Despite my research being in its infancy, below are a few things that I have already uncovered that might be of interest.  Please do contact me if you have information of interest and relevance.  Falmouth Art Gallery have provisionally agreed to hold an exhibition on the subject in the spring of 2021 and so my research will be published to coincide with that.
Update at 1st December 2018
The amount of material I have uncovered is astonishing and very exciting.  The draft book is devoted to both Artists and Authors and is over 400 pages already.  Accordingly, it will be divided into two -
Artists and Authors at Polperro
- Volume One - Pre-1920 and
- Volume Two - Post 1920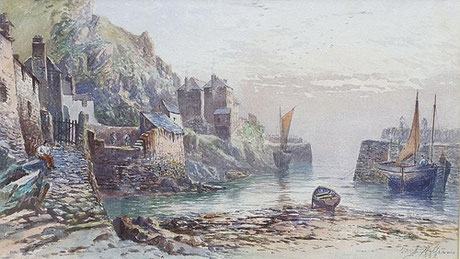 It seems that Harry John Williams may be one of the first non-local artists to have been resident in Polperro.  From 1882-7, he is recorded in exhibition reviews as "of Polperro".  Plymouth based artists were some of the first to sketch in Polperro - it seems it was too out of the way for upcountry artists to include it on their Cornish itineraries.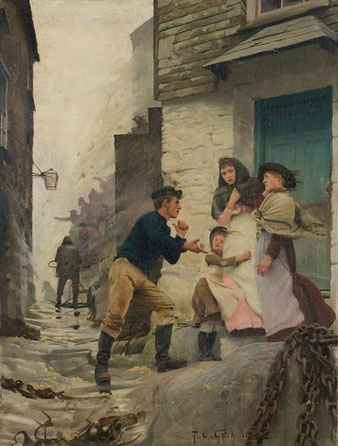 Thomas and Caroline Gotch were based in Polperro from July to November 1884, during which time Thomas produced three major works, the largest of which was News from the Beach.  He later repainted this in watercolour with the title Danger.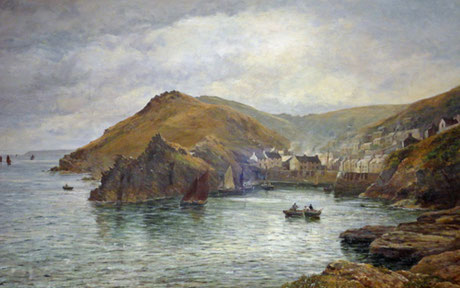 William Borrow's 1885 painting of Polperro was one of the first to be hung at the Royal Academy.  A local critic rated it higher than Stanhope Forbes' A Fish Sale on a Cornish Beach!
Mouat Loudan's Fish Sale, Polperro caused a stir at the Royal Academy in 1888 and, as it was illustrated in the Illustrated London News, it will have had a significant impact on the popularity of Polperro as an artist destination.  I have for many years wondered where the original might be and, to my shock and horror, I have just discovered it in a filthy, ripped state, mis-catalogued as by an unknown artist called 'Ludan' at, of all places, the Royal Cornwall Museum, Truro.  Please get in contact if you would like to help getting it restored.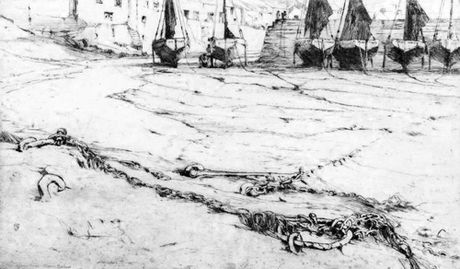 In 1888, the young Frank Short, who went on to become one of the most highly regarded figures in British printmaking, produced a series of etchings of Polperro, which are in the collections of Art Galleries around the world.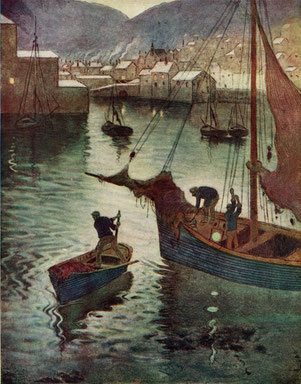 The American artist, Edward Ertz, who met his wife, Ethel Horsfall, in Polperro in 1900 and who ran a painting school there until 1904, recorded that the famous French artist, Auguste Delécluse, brought over to Polperro in 1894 a large party of students from his Paris atelier, staying three months and taking every spare room in the village.  Delécluse, who was enchanted by the place, exhibited a painting of Polperro at the 1895 Paris Salon.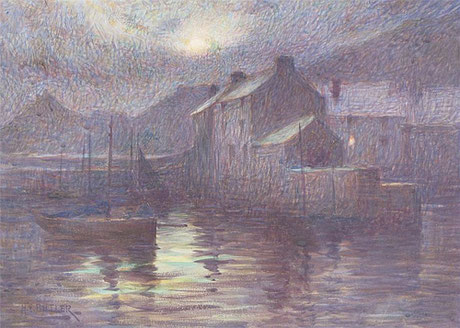 Herbert Butler first visited Polperro in 1884 and went on to marry Sophia Pond, one of the daughters of the family with whom he stayed.  They settled in Polperro in 1900 and he was one of the few long-term residents, dying in 1931.  After initially producing some large oil paintings, he found his true calling as a water-colourist and was particularly fond of moonlit scenes.  He was also a great advocate of drawing in lead pencil and produced a fascinating article on the subject for The Art Journal in 1910, when he had a London exhibition of his pencil drawings of Polperro.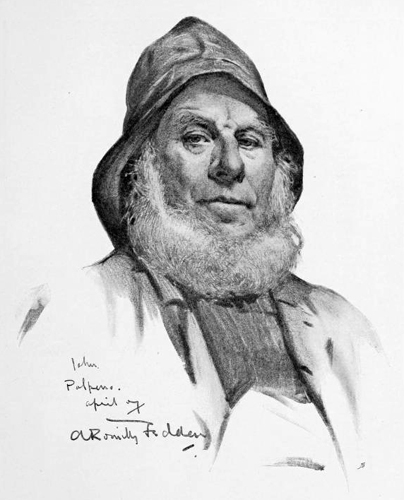 In 1907, Romilly Fedden teamed up with Herbert Butler to establish a painting school in Polperro and he had a series of fine pencil drawings of the village and its inhabitants published in 'The Studio' that year.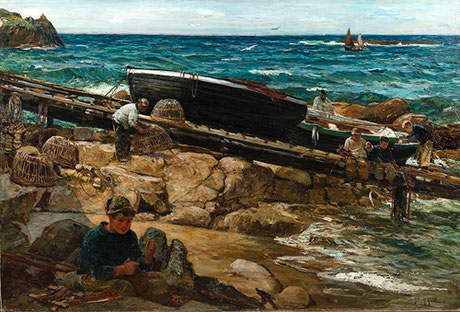 There are more paintings of Polperro in public collections by the Scot, John Robertson Reid, than by any other artist, and the vast majority of his exhibits from 1900 to his death in 1926 are Polperro subjects.  These tended to feature the fisherfolk and their children at work or play on the rocks around the harbour, with broadly painted colourful seas.
Frank Gascoigne Heath and his wife Jessica lived in Polperro from 1910 to 1912, during which time Frank produced a succession of paintings of Polperro.  Works such as Children on the Rocks (Cartwright Hall, Bradford) reveal the clear influence of his earlier association with Laura Knight at Newlyn.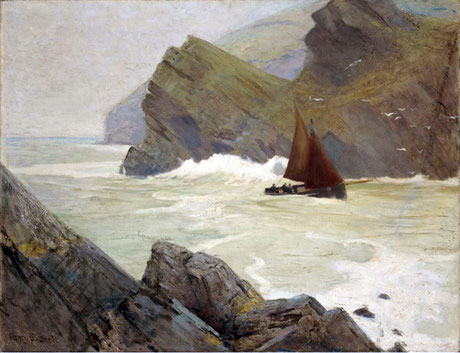 During the years 1904-1914, the American artist, Henry Bayley Snell, regularly brought parties of students to Polperro and his own paintings of Polperro won prizes at American exhibitions.  Accordingly, Polperro was visited by a large number of American artists.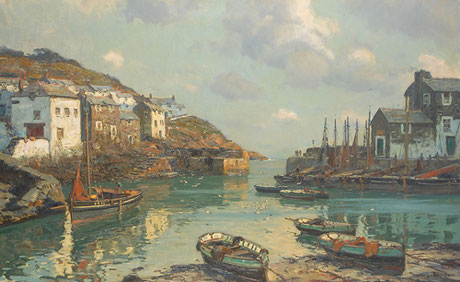 The famous German artist, Claus Bergen, made his initial reputation with a series of paintings of Polperro resulting from regular visits to the village from 1907-1913.  Cornelius Wagner was another German visitor.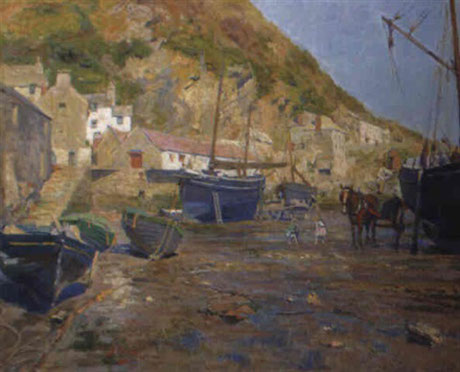 The highly regarded Dutch artist, Hendrik Jan Wolter, first came to Polperro in 1911 to visit Frank Heath, whom he had befriended when they studied together in Antwerp.  He returned several times during the 1920s.  A painting of Polperro by him is the cover illustration of his biography.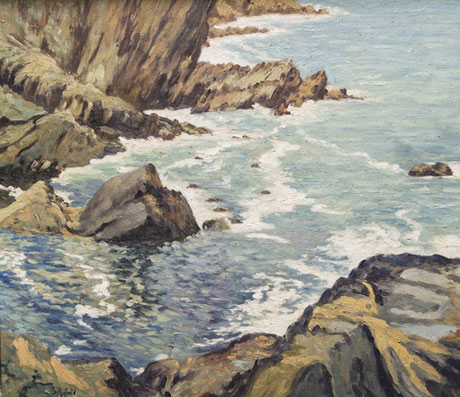 Elmer Schofield was an American artist, who had a significant impact on the popularity of Cornwall as a destination for American artists, as he spent part of most years from 1903-1944 in Cornwall.  He painted in Polperro in the years 1912-4 and this work shows the bottom of Peak Rock from the western side of the harbour entrance.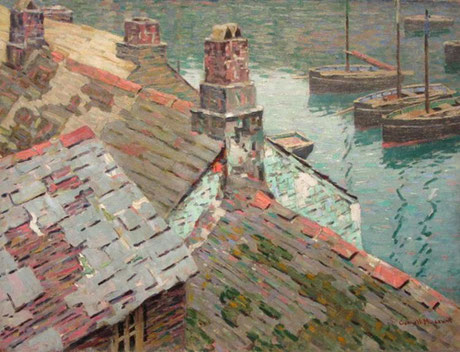 George Macrum was an American artist and this work was hung at the National Academy, New York in 1914.  The green wall appears in other paintings as well.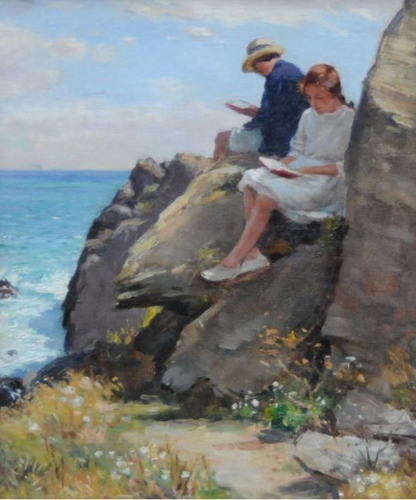 William Kay Blacklock and his artist wife Nellie, whom he repeatedly used as a model, settled in Polperro in 1922, but he died in 1924.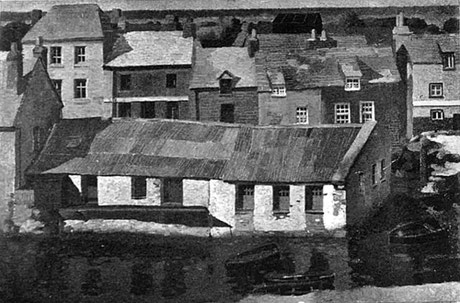 Teng-Hiok Chiu is now lauded as China's first Modernist Painter, but, during the 1930s, he first came to prominence in this country with a series of paintings of Polperro, which were included in two solos shows at the Fine Art Society in 1930 and 1936.  He also had paintings of Polperro hung at the RA, RBA and other shows around the country.
Do get in contact if you have a painting of Polperro by Chiu as they are proving difficult to find.
The illustrator, Arthur Wragg, first visited Polperro in 1924 with his great friend Frederick Roberts Johnson and they returned most summers, for as much as six months at a time, throughout the late 1920s and 1930s.  Wragg initially produced postcards and other work for the Polperro Press but became famous worldwide after his ground-breaking illustrated book, The Psalms for Modern Life (1933), which contained stark, satirical illustrations on the issues of the day, such as social injustice, poverty, war-mongering etc, all of which were produced in Polperro. 
Wragg's friend, Frederick Roberts Johnson, was also an illustrator.  He tended to use the pseudonym, 'Essex', albeit he also used 'Sax' for his work for 'The Tribune'.  Having married in 1942, Roberts Johnson settled in Polperro and produced an astonishing body of work in oils and pastels in a range of different styles.  However, these paintings are completely unknown as he never exhibited and never sold.  My book will prove a revelation as regards this artist.  Below are some examples of his caricatures of the local fishermen, done in a style similar to that he used for 'Punch' in the 1930s.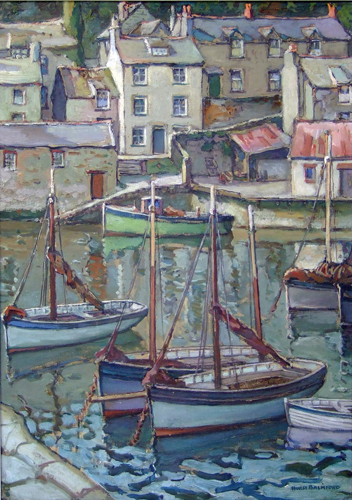 Hurst Balmford's first Royal Academy exhibit in 1917 was a depiction of Polperro and he had several other depictions of it hung there in the 1930s. Balmford had been Head of Morecambe School of Art and was based for some time in the late 1920s / early 1930s in St Ives.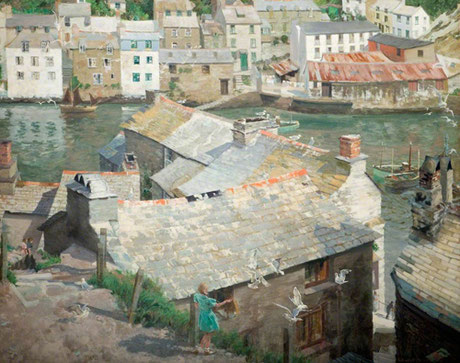 Wolverhampton Art Gallery own a series of paintings of Polperro by W H Dudley, originally bequeathed by his widow to his home town gallery at Bilston.  Dudley returned to Polperro a number of times in the late 1930s and several of these works are Royal Academy exhibits of considerable quality and interest.
Oskar Kokoschka, the famous Austrian Expressionist painter, spent from August 1939 to June 1940 in Polperro and works that he executed in the village are held by Tate Gallery, the Courtauld Institute and the Fitzwilliam Museum, Cambridge, with Polperro I and The Crab being considered some of his most important paintings.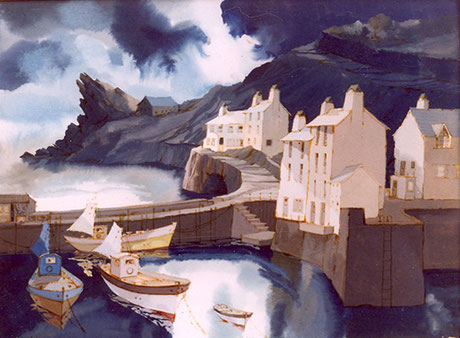 Frederick Cook settled in Polperro after WW2 and lived there for the rest of his life.  He produced decorative and imaginative depictions of the harbour, full of curving lines.  Some of his best works capture brooding conditions before storms.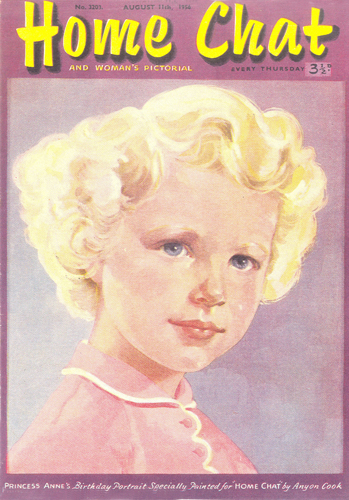 Anyon Cook, Frederick's wife, was a talented portrait painter, who was commissioned to paint Bishops of Truro, judges and other leading figures.  Her portrait of Polperro writer, Walter Greenwood, is in Salford Art Gallery.  Her most high profile sitter, though, was Princess Anne, whom she depicted for the magazine 'Home Chat' to mark her sixth birthday.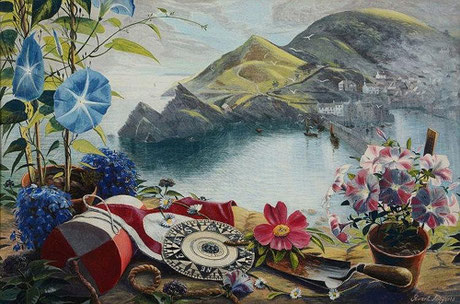 Stuart Armfield settled in Polperro in the 1950s, living at 'Tycara'.  Working in tempera, he produced some distinctive paintings and is particularly known for his other worldly still lifes.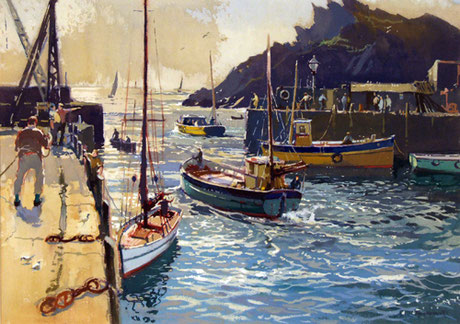 Jack Merriott lived at 'Island House' in the 1950s and 1960s and is particularly well known for his railway posters.  He was an early President of the East Cornwall Society of Artists, which now has its Gallery in Polperro.