W.H.Y.Titcomb - A Newlyner from St Ives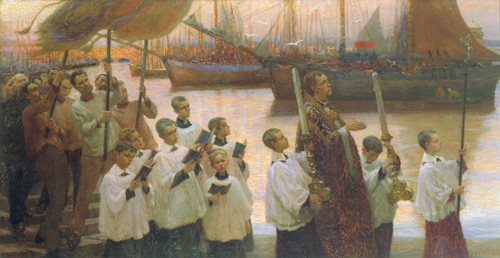 The following is the Press Release that I drafted for the 2003 exhibition
"William Titcomb has been completely ignored in books and exhibitions dealing with the Newlyn School and yet this exhibition (and its accompanying catalogue) will demonstrate that Titcomb should, in fact, be considered to be one of the most distinctive and important members of the School.  He has all the typical characteristics of a Newlyner - he was primarily a figure painter,  he believed strongly in open air painting, his painting technique reflected his studies in Antwerp and Paris and he was keen to depict the lives of the local fisherfolk realistically.  He was successful regularly at the Royal Academy, with his works being compared, often favourably, with those of Forbes and Bramley, and he was medalled in Paris, Chicago, Brussels and elsewhere.  The Exhibition will include a number of archetypal Newlyn School scenes, such as Old Sea Dogs, (which was purchased by Nottingham Castle Museum from the major Exhibition devoted to Cornish art held there in 1894), The Sunday School Treat, showing children on the steps of Smeaton's Pier, waiting to be rowed out to a fishing boat for a trip round the Bay, and Jubilee Day, St Ives (Oldham), showing the harbour decked out with bunting in celebration of Queen Victoria's Golden Jubilee. 
Titcomb, however, made a very distinctive contribution to the Newlyn School, for he was the only artist to depict what the local fishermen called "the brightest and best" part of life - their faith.  His painting Primitive Methodists at Prayer (Dudley) was one of a trio of paintings featuring the Primitive Methodist congregation in St Ives and was as well-known an image in its day as Bramley's A Hopeless Dawn.  It is a work of striking emotional force, its central feature being the face of an 85 year old fisherman, Capt Dick Harry, who lost his daughter whilst posing for the painting.  At a time when Anglicanism was trying to recover the ground lost to the Methodists, Titcomb's paintings bear out so much of what has been written about the Cornish love of passion and ritual in their religion - factors that led Anglicans like Bernard Walke to adopt more Catholic practices.  Walke's vision of religion for the Cornish fisherfolk is brilliantly encapsulated in The Church in Cornwall, a depiction of a Rogation Day procession around St Ives harbour. 
Titcomb's models included some of the best known St Ives characters of the time - One-Eyed Barber, Old Bull Roach, Georgie Crutch, Ephraim Perkin and Stanley Couch to name a few of the old salts, who with their long, bushy beards, had the look of Old Testament prophets.  Was Titcomb holding such men of simple and earnest faith up as national icons, in the manner that Millet and Courbet had presented the French agricultural worker?
Other highlights of the show will be Market Day, Etaples (RA 1893, Paris 1894), painted on honeymoon, in the town where he met his artist wife, Jessie, and several marine paintings, including the splendid Gull Nesting, depicting Hor Point.  Titcomb exhibited over a fifty year period, of which only eighteen were based in St Ives, and, accordingly, other aspects of his career will also be featured, including three of his Burmese paintings from 1881 (post-Antwerp but pre-Paris), examples of his watercolour sketches for Charles Marriott's book on the Rhine, some of his RA exhibits from his Bristol years (1909-1920) and a selection of his delightful watercolours from his travels in France and Italy in the 1920s, which many consider to be the most attractive work he produced.  When a retrospective of Titcomb's work was held in Bushey in 1985, visitors frequently commented that they could not believe that all the works in the Exhibition had been painted by the same artist, such was the diversity on show."
What Visitors said about the 2003 Titcomb exhibition
Wonderful exhibition and catalogues - J.T., Newbury
Interesting social history  - H., Paignton
Stunning, particularly Venetian watercolours  - J.G., Truro
The most wonderful exhibition I have seen  - K.M., Oxford
Absolutely first class. What a treat! - A.H., Truro
Wonderful. A great record of old St Ives  - M.Q., St Ives
As a one-time pastor of Fore Street Methodist Church, St Ives, he captures their faith brilliantly  - A.C., Redruth