The Cornish Art Gallery - Paintings for sale - Artists S-Z
Charles Walter Simpson (1885-1971)
Puffins
mixed media on board, 53 x 72 cms
signed bottom right
£2,750
This is one of the very best of Simpson's Wild Bird series that he worked on from 1910 to 1920, when he showed the series of some 80 works at the Laing Art Gallery, Newcastle-upon-Tyne and Plymouth City Art Gallery (part of the Mayflower centenary celebrations).  The cheeky-looking birds, with their distinctive colourful beaks, are depicted sitting on broadly painted rocks, with a backdrop of a surging sea - a most attractive work.  This painting was illustrated not only in my book Sea Change - Art in St Ives 1914-1930 but also in John Branfield's biography of Simpson and has been shown at Penlee House Gallery.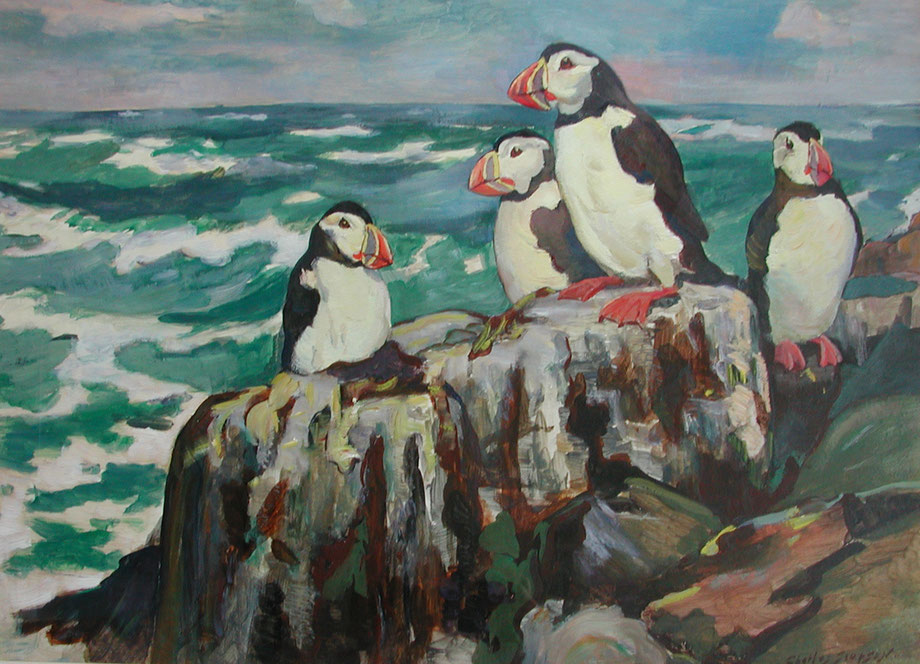 Theodor Alexander Weber (1838-1907)
St Ives, Cornwall  (late 1870s)
oil on canvas, 57 x 86 cms, signed bottom right 
£4,500
This large, impressive painting is of great interest as it is the only painting I know showing the full extent of the wooden pier at St Ives.  Work on this pier commenced in 1864 but was beset with difficulties, due to poor design and the death of the contractor, so that it had begun to break up before it was even finished.  It did not last very long in the state in which Weber captured it.  The painting also shows Smeaton's Pier, with the pepperpot lighthouse on the end.  After the demise of the wooden pier, this stone pier was extended in 1888-90, with another lighthouse added at the end of the extension.  The fact that the artist was a German, who was working in Cornwall before the Cornish colonies were formed, is also of additional interest, and he enjoyed an excellent international reputation.  It is a large painting, which I have had cleaned, and is well framed.  A painting of historical significance, which was originally bought by an American from Hartford, Connecticut - see below.  The painting was hung in my exhibition at Penlee House Gallery Marine Painting in Cornwall from Turner to Alfred Wallis.
Theodor Alexander Weber (1838-1907) was a German artist, who visited Cornwall before the colonies were formed and did marine paintings of both St Michael's Mount and St Ives.  He was born in Leipzig in Germany.   At the age of 16, he decided art would be his chosen profession. He obtained an apprenticeship with Berlin's resident expert painter of landscapes and marine scenes, Wilhelm August Leopold Christian Krause, in 1854.   After two years of intense study with Krause, Weber moved to Paris, where he was based for the rest of his life.  His works are invariably marine scenes, featuring vessels at sea, and his depictions of waves and storm tossed sailing boats tend to follow the exuberant style of mid-nineteenth century marine art.
Weber seems to have first visited Cornwall in the late 1870s, for an article dated September 1880 in an American newspaper records that Weber's painting featuring the old wooden pier had been bought by a Mr Vorce of Hartford, Connecticut on a recent tour of Europe.  It comments, "St Ives, Cornwall by Theodore Weber is a painting of the great dock which juts out into the ocean.  It is a lowering day, the scene is misty, and upon the heaving water (wherein the artist has shown some of his best work) the fishing boats plunge before the breeze, tossing the spray from their bows.  It is a strikingly effective work and one of the best in the collection." (Hartford Courant, 15/9/1880 at p.2.)
Weber is recorded as exhibiting in Britain in 1883, when he showed one work at Glasgow and fifteen at an exhibition with Arthur Tooth.  He exhibited regularly at the Paris Salon and won, in 1900, a bronze medal in the Paris Exposition Universelle.  He gained an international reputation as a maritime artist and his work is represented in the Art Galleries at Cologne, Leipzig, Nottingham, Rio de Janeiro and in Sydney, Australia.
Weber's painting Salvaging a Shipwreck off St Michael's Mount sold for over $10,000 at Bonhams, New York in 2016.
George Wolfe (1834-1890)
St Ives from Porthminster Beach c.1860
Watercolour and pencil, heightened with touches of bodycolour, 49.5 x 71.7 cms
signed bottom left
£2,900
This large watercolour by the much admired Bristol watercolourist, George Wolfe, is likely to date from 1860 or shortly thereafter, as it does not feature the mine engine house, which began to be erected on Pednolva Point in 1860 or the wooden pier, on which construction started in 1864.  This confirms, therefore, that Wolfe was one of the first artists to make use of the new rail link to West Penwith.  On the left can be seen some of the seine boats, which, at this time, were pulled up on to the back of Porthminster Beach out of season, and Wolfe also depicts a series of capstans that were used for pulling them out of the water, including, in the foreground, a broken one.  The depiction of The Malakoff and the houses of The Warren at this time is also of interest.  It is a fine atmospheric work that sold for over £3,000 back in 2001 and is attractively mounted and framed.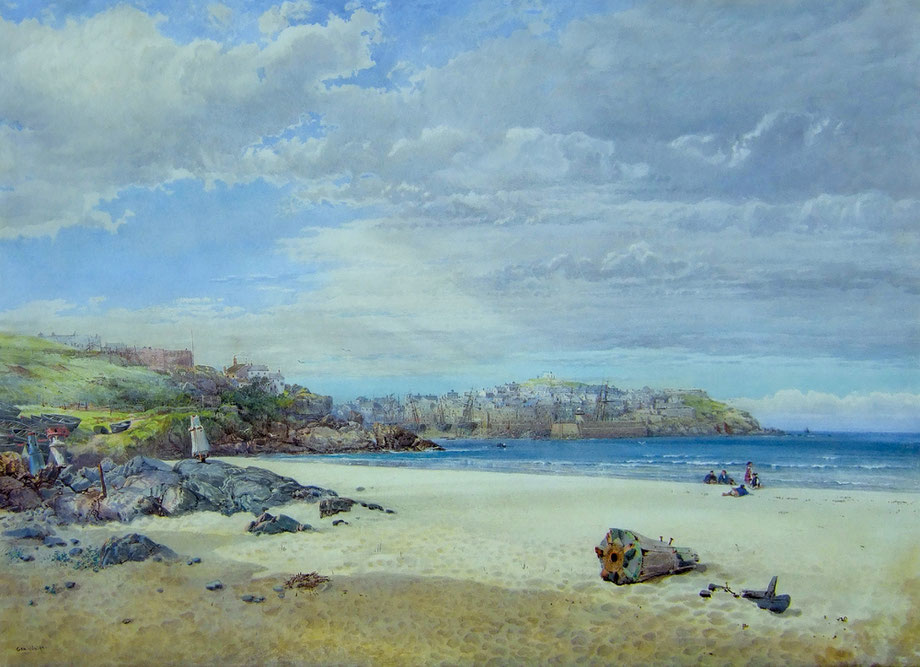 George Wolfe was born in Clifton, Bristol in early 1834, being baptised on 23rd February that year.  His father was Charles Wolfe (b.1804), a boatbuilder, and his mother was Ann, a dressmaker.  He was one of four children and the family lived at 1 Allen's Court, Holwell Road.  However, in both the 1851 and 1861 Censuses, he is recorded as a visitor living at 9 Windsor Terrace, Clifton, with a Miss Sophia Bulkeley, a widow, and her companion, Caroline Williams.  In 1851, he was described just as a scholar, and the two women appear to have taken him under their wing, as his parents were still alive.  He first exhibited at the Royal Academy and SBA in 1857, using the Windsor Terrace address.  In just seventeen years, he exhibited over seventy works at the latter Society.  
Wolfe's love affair with Cornwall began in 1860, when he exhibited depictions of Penzance and Mount's Bay at SBA, Bristol and Liverpool.  In 1861, St Ives area scenes feature for the first time amongst his exhibits.  These included St Ives Pier and Harbour, Cornwall (SBA - £40), Lelant Ferry House, Hayle, Cornwall (SBA & Liverpool - £52-10), Drift Wreck, Hayle Sands (Bristol), On Hayle Sands, Cornwall (Liverpool) and Hayle Sands, March Weather (Bristol - £25), the latter giving an indication of the time of year that he visited.  Mount's Bay and the Lizard scenes also featured amongst his exhibits that year.  His four exhibits at SBA were well regarded, the Morning Chronicle commenting, "Among the water-colour pictures, four sea-side studies by Mr George Wolfe are worthy of special attention.  They have all been painted with admirable conscientiousness as to detail, and at the same time with striking breadth of effect." 
In 1862, the majority of Wolfe's exhibits featured "the coast of Treen", near the Logan Rock, and the Land's End area.  However, one of his exhibits at Bristol was a minor work, Crossing the Sands, St Ives Bay (£5-5).  In 1863 and 1864, Penberth Cove subjects predominate, but his Royal Academy exhibit in 1864 was A Brig in St Ives Harbour, Cornwall (£60), and this was hung at Liverpool and Bristol in 1865.  The only other St Ives subject listed is St Ives Pier and Harbour, Cornwall (SBA 1868 - £30), but he continued to exhibit Mount's Bay and other Cornish scenes at SBA until 1873.  Unfortunately, no Bristol catalogues are available for the years 1868-1874.
On 29th September 1868, Wolfe married at Faringdon, Berkshire, Ann Mary Clement (known as 'Annie'), who was the only daughter of Captain Benjamin Clement RN, a Port Captain, who had died prior to the 1841 Census.  She recorded her age in the 1871 Census as 36, but she had, in fact, been born in 1824 (being baptised on 3rd April 1824) and so she was some ten years older than George.  She appears to have been reasonably well off and they settled in her home village of Chawton, Alton, Hampshire.  In the 1881 Census, he refers to himself as a "retired artist" despite only being 47.  Therefore, he may have been taken ill, and he died in 1890, aged 56.