Cecily Sidgwick biography - Introduction - "A brilliant and valued personality"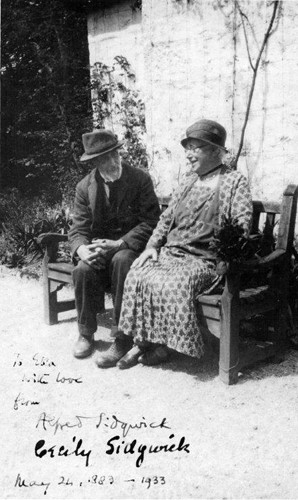 Cecily Sidgwick (1854-1934) was a prolific and popular novelist and writer, who was based in Lamorna, West Cornwall, from March 1906 until her death in 1934, during which time she, and her philosopher husband, Alfred, were integral members of the artistic community. Indeed, her husband continued to live at 'Trewoofe Orchard'; the house that they built for themselves in 1912, until his death in 1943. Despite this, they have received little attention in the books that have been written about the Lamorna colony, and their respective bodies of work have been almost totally neglected. Yet, writing in 1939, some five years after Cecily's death, a correspondent of The Cornishman, whose initials were J.H.M., recalled her zest for life, her wit and her charm, and commented, "I remember the day when her simple and completely unadorned coffin was borne through St Buryan Churchtown on a wain and all who followed it walked with a sense that the district and the county had lost a brilliant and valued personality."
During her career, Cecily, who until 1899 used the pseudonym, Mrs Alfred Dean, and then was known as Mrs Alfred Sidgwick, published over forty books, with a range of different publishers. The vast majority of these were romantic novels, but they clearly had a large following and also received some critical acclaim. The Spectator's book reviewer was a particular fan, "A volume from the pen of Mrs. Alfred Sidgwick is always welcome, so alert is her intelligence, so keen her observation, so crisp and clear-cut her style." Whilst now Cecily's novels are normally, and understandably, classed as lightweight romantic fiction, for they invariably deal principally with the romantic escapades of a range of young girls, they not only have remained eminently readable, because of her well-polished style and understated humour, but also contain much of social historical interest. Firstly, albeit she was born and brought up in London, Cecily's parents were from German Jewish families and Cecily, throughout her life, demonstrated an intense interest not only in the plight of the Jews in various countries, but also in all things German. A large number of her books, therefore, feature German settings and German characters and she is forever comparing the attitudes of Germans on various aspects of life to those of the English. She also appreciates at a very early juncture - by 1901 - the growing hostility towards England in Germany and seems to realize, and take advantage of, the obsession that both nations had about each other in the lead-up to the War. Clearly, her strong German connections, which were emphasized by the publication of two non-fiction works on Germany in 1908-9, will have made wartime difficult for her, and she responded by producing ever grosser caricatures of Germans in her wartime output. Even after the War, German subjects and characters still appeared regularly in her novels and her last book, Refugee, in 1934, highlighted the persecution of the Jews immediately initiated by Hitler after he had become Chancellor the previous year. Social historians of Anglo-German relations during this significant period would, I believe, find much of interest in her works.
Most of Cecily's novels deal with women's issues, and, therefore, should also be of interest to feminist historians. Indeed, her article, Should Married Women Work?, originally published in Good Housekeeping in 1924, was deemed worthy of being reprinted in Cupcakes and Kalashnikovs - 100 Years of the Best Journalism by Women edited by Eleanor Mills, in 2005. Cecily lived in an age where the role of women in society changed significantly, and all the arguments for and against such changes are referenced in her dialogue. Accordingly, she discusses the changing role of women in the management of the household, the relationships between employers and servants and the diminishing need for domestic help. By the 1920s, she herself is finding it increasingly difficult to get reliable servants, as young girls are declining to be "wage slaves". Whilst the 'modern girl' of the era might have greater freedom than her Victorian counterpart, this gave rise to difficult choices, often made more complicated by lack of knowledge. The advantages and disadvantages of the chaperone custom are highlighted, and the German and Jewish systems of arranged marriages are compared with the situation in England where girls generally had a free choice in the marital stakes, but needed to decide whether they wanted social status, financial stability or pure love. Alternatively, they could now choose a career or embrace spinsterhood in a positive manner, without an undue fear of the tag 'old maid'. This was a type that Cecily hoped would not be found in the modern age, and was scathing in her condemnation of a social structure that resulted in such unfortunates. "When [a girl] has neither means nor craft and fails to marry, she is one of the most tragic figures in our confused social hierarchy, difficult to help, superfluous. She sets her hand to this and that, but she has no grip on life. To think of her is to invoke the very image of failure and incompetence. She flocks into every opening, blocking and depresssing it; as a 'help' she becomes a by-word, for she has grown up without learning to help herself or anybody else. If she is a Protestant, she has no haven." (Home Life in Germany at p. 68-9) Her books also contain plenty of amusing and insightful comments about the differences between the sexes.
For anyone, like myself, interested in the artistic and social history of Cornish art colonies, then Cecily's output is of immense interest. A number of her novels are either set completely in Lamorna or contain lengthy sections recording life in West Penwith - in Carbis Bay, Sennen, Penzance, Newlyn as well as Lamorna. Accordingly, for example, she gives one a glimpse into the homes and studios of artists working in Lamorna and Newlyn; she describes the artists' picnics on the rocks at Lamorna or their sausage suppers held in the woods; there is a superb description of a fancy dress 'beano' held at the Lamorna Hotel, with Alfred Munnings leading the revelries; there are descriptions of Show Day in Newlyn, with lunch at Thomas and Caroline Gotch's home, 'Wheal Betsy', and of one of the many parties held by 'Seal' Weatherby and Geoffrey Garnier at 'Trewarveneth'. She evokes brilliantly not only the bohemian lifestyle but also the community spirit that pervaded 'The Happy Valley' in the period prior to the War.
My interest in the Sidgwicks derived from my acquisition of an album of ephemera put together by Cecily. This contains an eclectic mix of original drawings and caricatures, greetings cards, photographs, invitations, engravings, and comic pieces, featuring most of the principal artists associated with the Lamorna colony in its heyday. However, the most interesting item is a comic newsletter, which I have dated to November 1919, which seems to have been put together by the Sidgwicks in conjunction with two of their closest friends and neighbours, Ella Naper, and Belle Leader. The album also demonstrates the close friendship that Cecily had with maverick fellow novelist, Crosbie Garstin, with whom she wrote The Black Knight (1920), and confirms what was stated in Cecily's obituary that, amongst the Sidgwicks' greatest friends, were the families of John Lamorna Birch, Stanhope Forbes, Norman Garstin, Thomas Gotch and Charles Simpson.  Together, they tended to be referred to affectionately as Mr and Mrs Sidgy/Sidgie, but Cecily, who loved children, was known to adults and children alike as 'Aunt Cecy' or 'Aunt Cis'.