Cecily Sidgwick biography - Chapter 16 - Circle of friends and family in the 1920s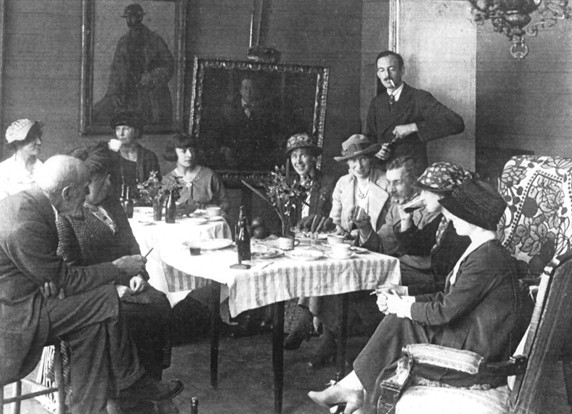 Life in Lamorna during the 1920s was a little more sedate than the bohemian days before the War. The conflict had left its mark either physically, emotionally or financially on most families in the valley. The two vibrant personalities of Alfred Munnings and Laura Knight were also absent, as they pursued new opportunities elsewhere. Laura Knight still hankered after the beauties of Lamorna and the Cornish coast and still thought of old friends, such as Ella Naper, with whom she kept in close contact, but Harold could not forget his treatment during the War and realised that he could only make a career as a portraitist, if he was based in London. However, from the first batch of colonists, Charles and Ella Naper, Robert and Eleanor Hughes and Frank and Jessica Heath joined the Sidgwicks in staying in their new homes, tending their lovingly created gardens, for the rest of their lives. Now in their seventies, the Sidgwicks, as indicated in the previous chapter, led a simple life that suited them. They enjoyed their house and garden, and grew vegetables and kept poultry so as to reduce their expenditure. Cards, particularly bridge, were a favourite recreation, whilst Alfred still enjoyed his chess, Frank Heath being one regular opponent. They managed a few holidays in Italy and France, when Cecily wanted to do some research for a new novel, and returned to visit relatives in Yorkshire from time to time. Problems with maids were probably the principal thing that upset their equilibrium.
They remained close friends with Ella Naper, who, in addition to jewellery, began to produce ceramics. This was in conjunction with Kate Westrup, who had moved with her sister, Emily, to a property at Lamorna Gate. They called the enterprise the Lamorna Pottery and acquired land off Colonel Paynter at Lamorna Vean, where they constructed a workshop made of wood and corrugated iron. Amongst her output were ceramic figures of Laura Knight and herself. Living on a tight budget, the Napers tried to reduce costs by catching their own fish and, for a while, Ella kept a record of their catches. Alfred occasionally went out with them, as did Crosbie Garstin, but their haul on one occasion, when they put the spiller out, consisted merely of "14 cwt of seaweed, one old boot and a dead cat".
In August 1921, many of the artistic communtiy were active participants in a fete to raise funds for a hut to be erected in the village for the local Women's Institute. This movement had started in England in 1915 and new WI's were springing up with great rapidity around the country. The Lamorna branch had already been constituted, with Mrs Smart of 'The Red House', in the nearby village of Sheffield, as Chairman. She was a young war widow, like Belle Leader, albeit that her husband had been killed after just six weeks of marriage, and, in 1919, when aged just 18, she had asked for some painting lessons off John Birch. The event was held principally in Lamorna woods and the amusements of the day included sports held in the meadow belonging to Mr Jory of The Wink, which were organised by Belle Leader, Cecily's nephew, Jeffrey Ullman and Major Scales. Cecily herself was in charge of a jumble sale in the woods, with the aid of Joan Coulson and Wilmet Beckett, whilst others had stalls selling garden produce and fancy goods. Houghton Birch superintended teas, whilst Eleanor Hughes and one of the Westrup sisters dispensed ices and other refreshments. Local children performed The Fairy Dance in the woods, with Wilmet Beckett, with her violin, acting as the wandering musician. To conclude a delightful day, the adults themselves danced in the woods. Then, the following month, Belle Leader, in conjunction with Jeffrey Ullman, organised "a capital entertainment" in St Buryan for the same cause. Another of Cecily's nephews, Peter Ullman, was also involved, as was Wilmet Beckett.
Despite the stay of Charles and Ruth Simpson at 'Bodriggy' during the War being relatively brief, they appear to have become good friends with the Sidgwicks, with Cecily no doubt fussing over their daughter, Leonora. Having set up a painting school in St Ives, the Simpsons invited a number of old friends from their Lamorna days across to lunch in the early 1920s, probably 1922, and the photograph of their luncheon party in Ruth's Piazza studio on Porthmeor Beach is the best known image of the Sidgwicks, as it is one of the most reproduced depictions of St Ives studio life. In fact, they are shown, not very clearly, in profile, on the very left of the photograph, but it is interesting that the party from Lamorna is effectively the 'Trewoofe group', for the Sidgwicks are accompanied by Robert and Eleanor Hughes, Ella Naper and a woman, who is not normally identified, as one only sees her profile from the back. However, now, I have little doubt that it is Belle Leader, who is shown, in a photograph in Cecily's album, wearing a similar hat. The girls on the other side of the table are students at the Simpson School and include Kathleen Slatter, who married St Ives marine artist and fomer submarine commander, George Bradshaw. 
The tight-knit group of 'the family' continued for a number of years, and Belle Leader worked further on her garden at 'Rosemerrin', a wall built in 1922 doing further damage to the archaeological remains. She also constructed a tennis court. Her financial position will have changed for the better with the death in March 1923 of her father-in-law, Benjamin Williams Leader, and, again, on the death of his widow in 1938. In Cecily's album, there is a Christmas card from her for 1924, with a picture of herself and her donkey. In the background is a large lighthouse, which appears to be that on Trevose Head, suggesting that she had already moved to Bude, where she was based for the rest of her life. The education of her children seems to have been the primary reason behind this move. After a short time, she built herself a new property, also called 'Rosemerrin', at Maer, near Bude, selling the original 'Rosemerrin' in Lamorna to Crosbie Garstin in 1928, albeit he is recorded as living there as early as 1925. Surprisingly, she never remarried. Like many who lost loved ones in the First World War, she must have despaired that their sacrifice had not prevented yet another conflict with Germany commencing in 1939. Her son, Benjamin John Leader, of course, being of the requisite age, enlisted as a pilot in the RAF Volunteer Reserve and one can only imagine her grief, when, in August 1942, he too was killed on war service. On her death in 1950, her executors were her daughter, Alison Mary Eastlake Bonner, and her son-in-law Geoffrey Clarence Bonner, a company director, and Agnes Land Anderson, a spinster relation - possibly her sister. Her effects were over £14,600.
After their collaboration on The Black Knight, Crosbie Garstin and Cecily Sidgwick remained good friends and the album contains a number of original comic greetings cards from him. Some of these are signed 'Jimmy', but the style of illustration on them clearly indicate that they are from Crosbie. Herbert Thomas tells us that when Cecily was speaking to the Daily Chronicle about working with Garstin on The Black Knight, she referred to him as 'Jimmy'. Accordingly, it was his nickname, but when it originated is unclear. He certainly referred to himself as 'Jimmy' when he wrote about his adventures in Africa in The Sunshine Settlers.
One card, inscribed Viva L'Italia, comments, "Have sent out a comic book, 'Seacoast of Bohemia'. Hope it reaches you." This suggests that the Sidgwicks were in Italy at the time, possibly researching scenes for her novel, Humming Bird, and that Crosbie had sent out a new book for her comments. The phrase 'seacoast of Bohemia' was used by Shakespeare in A Winter's Tale and, from Ben Jonson on, Shakespeare has been parodied for not knowing that Bohemia was land-locked. Subsequently, the phrase 'the seacoast of Bohemia' has entered the language as an equivalent of 'never-never land' - a place of Utopian possibility. Whilst Garstin never did publish a work of this title, he did publish in 1922 The Coasts of Romance, but this was really a travel book, recording a trip to Gibraltar, Tangier, Morocco and back through Spain, which he made as he had decided that the eighteenth century adventure story about Ortho Penhale that he had been working on for some time required a Morocco setting at some juncture.
Colonel J.H.Williams ('Elephant Bill') indicates that the story about the Penhale family was something that Garstin had been contemplating for some fifteen years. Having made friends with local fishermen, miners, yeomen and others, "he absorbed every legend and story like a sponge does water. From old cottagers, he unearthed old documents, musty with age; Logs kept by ancestors who captained Falmouth packets running to the West Indies. He ferreted out old letters from local stalwarts, who financed privateers or trade for slaves in Calabar. By this means, he accumulated a vast store of material with Cornwall as the background." However, it was only in 1922 that he sat down to write his adventure story, working in 'Way Down Two', one of the cottages in Lamorna Cove, which was secured for him either by Cecily or her sister-in-law, Hilda Ullmann, who rented 'Morsylla' next door. The result, after eighteen months, was his swashbuckling tale, The Owl's House. Set in Penwith in the mid-eighteenth century, with accurate descriptions of the local geography, it tells the story of the Penhale family as it battles to restore its finances and features Cornish pirates and smugglers, press gangs and schooners under sail, battles and romance, slavery and distant tropical islands. Intended as a self-contained novel, the publishers, who recognised its potential at once, got Crosbie to alter the ending to permit further sequels, which were produced in 1925 (High Noon) and 1926 (The West Wind). These are the works by which Crosbie is best known.
Cecily's album also includes Garstin's four page illustrated comic article, entitled Boxing Day, published in the Illustrated Sporting and Dramatic News on 29th December 1923. This contained thirteen images of archetypal hunting folk, and one of their quarry, each accompanied by a comic stanza. As with all Crosbie's verse, there are as many duff notes as there are bright ones.
Whilst living at 'Way Down Two', Crosbie, one day, bravely rescued a girl who had got into difficulties swimming in the Cove. Her friend, Lilian Barkworth, was immensely grateful and she and Crosbie enjoyed a whirlwind romance before marrying. Cecily's album contains the wedding invitation for 30th October 1924 at All Saints, Ennismore Gardens. Having lived at 'Cove Cottage' for a while, they moved, when Belle Leader left Lamorna, into 'Rosemerrin' and so became the Sidgwicks' nearest neighbours. Accordingly, the album also contains a series of comic Greetings Cards from 'the Crosbie Garstins'. One seems to be a homecoming card. Recently discharged off the ship in the background, a pig-tailed sailor, with a parrot in a cage over his shoulder, rapturously approaches his true love, but whilst the family dog welcomes him back delightedly, the girl looks away rather demurely, with her finger on her lips. In his poetry, Crosbie reveals that, despite his wanderlust, thoughts of home and homecomings were never far away, and the illustration would seem to relate to a stanza in his poem, A Fantasy, which was included in Vagabond Verses, and ran,
"If I were a pig-tailed Buccaneer,
And you were a Bristol girl,
A-rolling home from over the sea
I'd give you a big hug on the landing quay,
A hook-nosed parrot that swore like me,
And a brooch of mother-o'-pearl."
Another shows the same girl, with her back to a striking figure on horseback in military uniform, who is twirling his extensive moustache. Here, the point of the humour is obtuse. Then, there is one of a sailor dancing on grass beside the sea to a man playing a violin whilst others drinkers watch, with a pub sign 'Admiral Benbow' hanging in the trees. Whilst a clear reference to the public house of that name in Penzance, the precise joke is again unclear. Nevertheless, there are likely to have been many evenings of hilarity with Crosbie as a close neighbour, for he was renowned for his bonhomie and his amusing tales from his extraordinary past. Lilian was musical and a talented violinist, who soon became the leader of the Penzance Orchestra, and Crosbie and her got involved in a number of local amateur dramatic productions with the Penzance Players and others. Accordingly, they were well-known both in Penzance and St Ives, where they were guests at the St Ives Arts Club on a number of occasions. Marriage, though, did not quell Crosbie's wanderlust, and he went off on his own for an extended trip to south-east Asia, which resulted in the book, The Dragon and the Lotus (1928), whilst Houp La (1929) was more of a fantasy tale. By this juncture, Crosbie's marriage was under strain, a situation that the Sidgwicks will undoubtedly have been aware of. 
The friendship with the Birch family, who managed to acquire the freehold of 'Flagstaff Cottage' off Colonel Paynter in 1923, also continued, although John Birch was now very successful and was repeatedly away on trips where he was able to combine his great love of fishing with painting commissions. His daughters, 'Mornie' and Joan, were also often away at boarding school, and, on finishing school, 'Mornie' started work in London. Houghton Birch, with time on her hands, set up Lamorna Handicrafts, selling items from the cottage. When John was made an ARA in 1926, the publicity that resulted for Lamorna was enormous, but his election increased his commitments away from Lamorna, and he began to lose some of his intimacy with his friends there.
After the War, Cecily's brother's family changed their name from Ullmann to Ullman to lessen the Germanic connection, but her brother, Percy, who was then living at 1 Palace Court, Palace Road, Kingston, died in July 1921. His estate was surprisingly modest. As noted above, his family still came down to visit Lamorna and took part in the social life of the village. Cecily's album contains a wedding invitation from Mrs Harry Bradshaw to the wedding of her daughter Elinor (Tim) to Captain Peter Ullman R.E. at Gerrards Cross on 24th July 1929, and he went on to become a Major General in the Royal Engineers. Dick Ullman became Head Brewer of a London Brewery, whilst Jeffrey Ullman became Personnel Manager of Morgan Crucible. Dick retained his love of botany and, in the years 1928-1930, registered with the Botanical Society of the British Isles a large number of newly discovered plants, not only in Lamorna and Trewoofe but also at Kynance Cove, Kennack Cove, Black Head, Rill Head, Caerthillian, Trevescan, Sennen and Hayle. During these years, therefore, he is likely to have spent quite some time in Lamorna and was warmly welcomed by the Sidgwicks.
Another member of Cecily's family that was attracted to live in the locality was a cousin, the Reverend Christopher Benson Crofts, who became Rector at St Buryans Church for many years. He was the grandson of John Crofts (1811-1888), who set up the Leeds wool and worsted manufacturer, John Crofts & Co. Accordingly, this was another Yorkshire connection. However, Christopher was born in Shropshire on 10th October 1873 and, in the 1901 Census, he is recorded as living in Hammersmith with his parents. His father, Arthur, (c.1850-1903) was at that time a linen manufacturer's agent, whilst his mother, Mary (nee Woodhouse) was the niece of the Archbishop of Canterbury, Edward White Benson (1829-1896) - hence Christopher's middle name. He was educated at St Edmund Hall, Oxford, before taking holy orders, and he married Avery Page in Kensington in 1915, when he was 31 and she 22. They immediately sailed for New York and, between 1916 and 1922, he was Headmaster of Nassau Grammar School in the Bahamas. On returning to England, he was based in Bideford between 1923 and 1925, where he was senior curate, before being appointed Rector of St Buryan in 1926. By that time, he had two children - a boy and a girl. He remained Rector there until his death in 1955, writing a short history of St Buryan and editing archaeological books for the West Cornwall Field Club.