Crosbie Garstin - Author, Artist and Adventurer
"All the world is my field of glory.
On her hills will I carve my story.
Luck alone is the dame I follow...,
Live to-day for we rot tomorrow."
 Crosbie Garstin, A Soldier of Fortune, 1907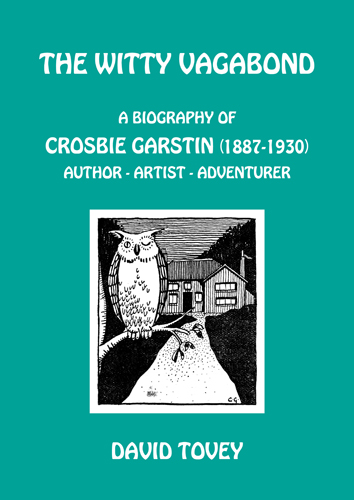 My biography of the Author, Artist and Adventurer, Crosbie Garstin, eldest son of Newlyn School painter, Norman Garstin, was published in 2017. 
Crosbie Garstin led an extraordinarily adventurous life, which saw him work as a broncho-buster, lumberjack, gold miner, harvester in Canada and North America, as a bush-ranger and cattle ranch manager in South Africa and as a cavalryman in France, Ireland and Italy during WWI.  He used these and other subsequent experiences in his writings, which include poetry, short stories, comic war stories, adventure novels, farces, amusing travelogues etc.  An irrepressible and irreverent character, he lived in Lamorna from 1919 to 1930, when he drowned at Salcombe.  Or did he do a runner?
The book is priced at £15 (postage within UK £3)
Payment options - see bottom of page
Below are some examples of Crosbie's illustrations from his travel books
Here is the Preface, which provides a summary of his career.
When news filtered down to West Cornwall during Easter Sunday in 1930 that Crosbie Garstin, then aged just 42, was missing, feared drowned, after a boating accident at Salcombe, a deep sense of shock affected the countless friends, acquaintances and admirers of this "beloved, gifted, famous author and poet", this "serious and conscientious artist", this "brave, laughing care-free soldier", and this "blithe and heroic spirit", who was "in every way a notable son of Cornwall". It seemed incredible that a fine sportsman and expert swimmer, who had experienced intrepid adventures all around the world, should drown in Salcombe estuary, that perceived haven of tranquillity. Whilst the initial disbelief was soon dispelled, as the facts became known, there are still those who contend that Crosbie did not drown but did a disappearing act, and it is a telling comment on human nature that, currently, there is more interest in this 'mystery', than there is in the widely diverse and hugely entertaining body of literature that he produced. The current neglect is all the more surprising as Crosbie's own life was one big adventure story in itself.  
The eldest of three children of the Newlyn School artist, Norman Garstin, Crosbie was brought up in an artistic community, and, being good looking as a child, was employed as a model not only by his father, but also by his friends. Encouraged to draw from a young age, he showed an early talent for caricature. Whilst he had an enquiring mind, which meant that he was fascinated by any 'happening' in the locality, so that he was "forever missing from home", he proved useless academically. Indeed, his father described him as "practically immune" to education, and even an attempt to subject him to the rigours of the German system in Berlin proved fruitless. Yet, despite repeatedly coming bottom of his class, he was nevertheless later hailed by his former headmaster as a "genius" who was "above the plane of school life" and with "too rare a mind for any school curriculum".  
Naturally, options for someone unable to pass any form of examination were severely limited, and several attempts to force him into a variety of careers in the Forces, in Industry and the Civil Service proved abject failures. In between these unhappy experiences, Crosbie enjoyed, during 1908-9, snatches of the bohemian life of an art student at the Forbes School at Newlyn. He went drinking with Alfred Munnings, attended the infamous 'drenchies' or fancy dress balls laid on by the artists and fell in love with Fryn Tennyson Jesse, a fellow art student, who, like Crosbie, made a more significant impact in the literary world. It was no doubt this lifestyle, as much as his deficiencies as an easel painter, that hurried his parents into new alternative plans for him. 
In early 1910, Crosbie set off for Canada, where he had some relations, to see if the New World had some outdoor pursuit that could harness his talents. Determined to try his luck at gold mining at some juncture, he took on arduous but well-paid jobs to raise some speculative capital and worked over the next two years as a horse-wrangler, cow-puncher and broncho-buster in Saskatchewan and Montana, as a 'stooker' and a member of a threshing gang during a Canadian harvest, as a lumberjack and sawyer in British Columbia and as a 'mucker' and navvy in minings camps on the Pacific Coast near Vancouver. Having returned home empty-handed in 1912, after apparently being conned during his gold mining venture, he was then offered the job of a bush ranger to the Tati Concessions in the semi-desert of Bechuanaland and Matabeleland in South Africa. With a range of 3,000 square miles to cover, this kept him continually on trek, and, when he tired of sleeping most nights under the stars, he then attempted to establish a cattle ranch in Bechuanaland for a family friend. However, his time in South Africa coincided with a prolonged and severe drought, which made mere survival difficult. Accordingly, whilst his principal aim of getting rich was never realised, he nevertheless acquired a wealth of fascinating experiences and a huge fund of anecdotes, which he incorporated later, often in an amusing and self-deprecatory manner, into his poetry, short stories and his novels.  
What he saw as his "exile" in South Africa came to an end, to his immense relief, on the outbreak of the First World War. Having spent the past four years in the colonies and being by now a highly skilled horseman, Crosbie joined a colonial cavalry regiment, and served in France, Italy and Ireland, where he worked for a time as an intelligence officer during the Easter Rising in 1916. Despite sharing many of the frustrations of cavalrymen at their inability to make a difference in modern warfare, Crosbie nevertheless experienced some dramatic front-line action, particularly at Passchaendale and Cambrai. He also claimed to be the first Allied soldier in Lille on an occasion when at last his troop could show their worth as they harried the retreating foe. In his report, he described this as "about the best day of my life". He was lauded highly in the history of his Regiment for his skills as a Riding Master, and stayed on in France to oversee the demobilisation of the horses.
Crosbie was first published as a poet. From as early as 1905, when he was still at school, he had had poems, in a variety of styles, accepted by a range of periodicals, such as the Pall Mall Gazette, the Westminster Gazette, the Windsor Magazine and The Spectator. However, it was not until 1917, when he was aged thirty, that a compilation of these was published under the apt title Vagabond Verses, for it included pieces written during his varied adventures around the globe, as well as some of his Punch War poetry. This book was highly praised in The Spectator, who commented,
"He excels in miniature sketches of tropical and outlandish scenes - dawn on the veld, outspanning in the mid-day heat; he writes swinging chanties, and has at his command the patois of the habitats, the rough speech of the pioneer, the lingo of the trenches. He is by turns truculent and tender, grim and sentimental, but never wastes words or allows the form to master his purpose. A whole Odyssey of varied experience is packed into this little volume." 
A second book devoted only to verse, The Ballad of the "Royal Ann", was published in 1922, the title piece being the longest and amongst the best of his poetic output. This also received considerable acclaim, with critics delighting in his adherence to old-fashioned principles of rhyme, meter and melody, in contrast to the then current obsession with vers libre. A number of poems were included in his other works as well, and both during his lifetime and since his death, a range of musical composers have been inspired to set his verse to music. One poem, The Figurehead, was even made into an animated film
During the War, however, Crosbie made a significant reputation for himself with a series of comic pieces about life at the Front, which he produced for Punch. For these, he used the pseudonym 'Patlander', for Garstin was always very proud of his father's Irish heritage and, indeed, called himself an Irishman. Compilations of these stories were published in 1918 and 1919 as The Mud Larks and The Mud Larks Again, and their unique comic take on unusual aspects of the war experience received exceptional reviews, particularly in the colonies.
Crosbie cemented his reputation as a comic writer, with the publication in 1918 of The Sunshine Settlers, an amusing account of his experiences in South Africa. He also utilised his earlier experiences in Canada in the novel The Black Knight (1920), which he published, in an interesting experiment, jointly with Cecily Sidgwick, an acclaimed romantic novelist, who was a great friend of his family. Garstin's contribution to the novel was considered far superior to that of his illustrious colleague, and his mastery of Canadian slang, and the comic way that he incorporated it into the story, was highly regarded. Indeed, his ability to reproduce in his stories and poems local 'lingos', and to capture the particular phraseology of the race or class of his characters was a further distinctive aspect of his work.
During the War and in the early 1920s, Crosbie produced a large number of short stories based upon his own adventures or upon anecdotes heard on his travels, and these were published in a range of international periodicals. Again, these won many plaudits and one work, Rra Boloi, was used by Harvard University as a model for the construction of a short story. Despite several attempts by Crosbie and his widow, these stories have never been collated and so are little known. However, the adventure story which Crosbie concentrated on the most, as he had been mulling it over for some fifteen years, was a yarn set in eighteenth century West Cornwall, a period that had fascinated him since his youth. For five full years in the early 1920s, he immersed himself in research into this period of Cornish history and the end result was his brilliant Penhale trilogy - The Owls' House (1924), High Noon (1926) and The West Wind (1927). As his American publisher commented, "Everything to make a lively romance is here: smuggling, wrecking, horse-trading with gypsies, pirating off the Barbary coast, fighting galore, and love-making, both gentle and passionate - BUT - the story is told with such zest, the characters are presented with such complete understanding and sympathy, and the picturesque country and the ocean scenes brought out so vividly, that the novel may well be ranked high in the literature of adventure." The trilogy, which clearly inspired Winston Graham's Poldark, is Crosbie's best known work, with successive generations enjoying his superb evocation of the lives of Cornishmen at sea and at home in the eighteenth century. Yet, inexplicably, the novels have never been adapted for the large or small screen.
The success of The Owls' House in America caused Barton Currie, the Editor of the popular American periodical, Ladies' Home Journal, to negotiate with Crosbie's publishers, William Heinemann, for the publication of the sequels to that book to be delayed so as to allow him to publish condensed versions of them, in serial format, in the Journal. Given the circulation of the Journal at the time was in excess of two million, this brought Crosbie to the attention of a vast new audience. Indeed, by the end of the 1920s, he considered America to be his principal market.
During his research for The Owls' House, in which his Cornish hero was taken captive by Barbary pirates, Garstin took a trip to Morocco in 1921, and found that he had a talent for travel writing, combining an amusing and irreverent take on history, with a range of anecdotes from his travels, spiced up with his own light verse and comic illustrations. His account of his trip to Morocco and Moorish Spain was published in 1922 as The Coasts of Romance, and won universal praise as one of the freshest and most original travelogues ever written. In a nice turn of phrase, his friend, Herbert Thomas, the Editor of The Cornishman, commented that Crosbie had interspersed "interesting bits of history and description with the diverting persiflage...which emanates from him like aroma from a brake of golden furze after rain".
This travelogue impressed Barton Currie too, and so, in 1924, he commissioned Crosbie to produce a similar travel book on Indo-China, again to be serialised first in the Ladies' Home Journal. Not put off by his recent marriage to violinist, Lilian Barkworth, whose friend he had saved from drowning in Lamorna Cove, Crosbie extended the trip to include a train ride across America, and stops in Hawaii, Japan, Hong Kong and Macau before he even reached Indo-China, and was away from home for a full six months. The resultant book, The Dragon and the Lotus, published first in America in 1927, is not only a fascinating early account of such gems as Angkor Wat and Ha Long Bay, but also showcases his finest work as both a comic artist and an illustrator. The trip also provided him with material for two further novels and a range of short stories.
In the late 1920s, the Crosbie Garstins were central figures in both the private and public social life of West Penwith. Crosbie's skills as an amusing raconteur meant that he was welcome at any function, and they fraternised closely with both the artistic community in Lamorna, where they lived, and in Newlyn and Penzance. On the public stage, Crosbie often took the lead role in the dramatic productions of the Penzance Players, whilst Lilian's exceptional talent as a violinist saw her in great demand for all local musical productions and she became the leader of the Penzance Symphony Orchestra.
After a fantastical farce, Houp-La, in 1929, with new publisher, Chatto & Windus, Garstin's final book, published posthumously, was China Seas, which was hailed as "a diamond amongst books of romantic adventure" and which was subsequently made into a highly successful, and still well-regarded, film, featuring three of Hollywood's biggest stars of the 1930s - Clark Gable, Jean Harlow and Wallace Beery. However, although the novel has far greater depth to it than the film script, in which the story was substantially re-written to tie in more closely with the existing screen personas of Gable and Harlow, it has been out of print since 1935, the year of the film's release.
Crosbie did not live to pass comment on what Hollywood had done to his gem of a novel, as, within a couple of days of despatching the manuscript of China Seas to his publishers, he was reported missing after a boating accident in Salcombe estuary. In the early hours of Easter Sunday 1930, Crosbie set off from Salcombe Hotel, where he had been at a dance, in a collapsible dinghy with a pretty actress and a deck-hand bound for his party's yacht, moored fifty yards offshore, but the dinghy sank in the rough swell caused by a stiff wind and a strong tide. Whilst the deck-hand and the girl, who had been wearing a fur coat, survived, Crosbie, who decided to swim for the yacht rather than the shore, drowned. However, as his body was never found, suggestions have been made that Crosbie, possibly for family or financial reasons, may have done a disappearing act. The arguments in favour of such a scenario were pretty weak, but then, in 1988, a Reverend contended that he had worked briefly with someone calling himself Crosbie Garstin in London in 1960 and that this man had indicated that he had continued to write using the aliases, Norman Leslie and John Crosbie, two writers whose publications do date from the years 1931-1960. This was indeed a mystery - could there be a significant twist to the end of the tale of this supreme adventurer?
Crosbie's widow, Lilian, waged a valiant battle to try to ensure that Crosbie's books remained in print, but, since the Second World War, apart from occasional reprints of the Penhale trilogy, very few of his books have been readily available. This has resulted in his literary output now being little known. Furthermore, no-one has attempted previously any form of detailed biographical note on him. However, the Garstin family archive contains practically every letter that Crosbie ever wrote home. These include not only the vast majority of his letters from America, Canada and South Africa, the first of which was fifty pages long, but also his letters during the War. The family archive also includes the original manuscripts of his novels and of more than sixty short stories, a number of which clearly include autobiographical segments. Quite a few of these do not appear to have been published, and I have also acquired copies of a significant number of unpublished poems. His correspondence with his literary agent, now housed in an American University, also throws a fascinating light on how his career developed and on his breakthrough in America. Accordingly, not only is a re-assessment of Garstin's life and his literary output long overdue, but the source material with which to reconstruct his story is exceptional. What is revealed is that his own life is just as exciting an adventure story, as any fiction that he wrote, and that large parts of it can be told in his own words in his own inimitable style. Garstin emerges as a consummate story teller and an amusing raconteur, with the eye of an artist, the soul of a poet, the ear of a mimic, the wit of a 'Patlander' and the irreverence of a renegade.
Crosbie Garstin and WW1
Crosbie's account of his WWI experiences in his letters home, his short stories, his comic pieces for 'Punch' and in his poetry provide a quite uniquely varied take on that conflict.  During the past five years, there has been a huge amount written about the War but not once, to my knowledge, have Crosbie's writings been referred to.  I have provided some examples on the Cornish Artists and Authors at War page.
Review by Roger Richardson-Bunbury of
The Witty Vagabond – A Biography of Crosbie Garstin (1887-1930)
by David Tovey
David Tovey is best known for his outstanding series of books on the artists who worked in St Ives in the latter part of the nineteenth century and the first half of the twentieth. In the course of his researches into the artists, both as painters and in their social life, he became intrigued by the character of Crosbie Garstin and this biography is the result. 
Crosbie Garstin led an extraordinary life so full of adventure that this biography reads more like a work of fiction than fact. Leavened with much humour, it drew me in and kept me enthralled and entertained to the end. A man who lived such an adventurous life was perhaps unlikely to die in bed and Crosbie's death occurred in mysterious circumstances, his body was never found, and this led some to believe he had chosen to disappear, but the probability is that he drowned. Aged only 42 at his death, Crosbie had packed in enough adventures to fill several lifetimes. 
Crosbie was a son of the artist Norman Garstin principally known for his famous painting of Penzance "The rain it raineth every day" reproduced innumerable times as prints, on mugs, calendars and cards. 
As a lad, Crosbie was the source of despair to his parents. An adventurous boy, he got into all kinds of scrapes. While he had an enquiring mind he proved useless academically, being in his father's words "practically immune" to education. Despite repeatedly coming bottom of his class he was later described by his headmaster as a "genius" with "too rare a mind for any school curriculum". 
Given his inability to pass any form of examination, his career options were limited. Encouraged to draw from an early age he showed a talent for caricature but his abilities as a painter were not such as to enable him to make a living. Attempts to force him into a variety of careers in the Forces, in Industry and the Civil Service proved abject failures. 
In 1910, he set off for Canada determined to try his luck at gold mining. To raise some capital, he took a variety of arduous but well paid jobs but returned home empty handed in 1912 having been conned during his gold mining venture. Offered the job of a bush ranger in South Africa, he accepted but, tiring of this, he attempted to establish a cattle ranch in Bechuanaland. 
What he saw as "exile" in South Africa came to an end on the outbreak of the First World War, when he joined a colonial cavalry regiment and served in France, Italy and Ireland. A skilled horseman, he was lauded highly in the history of his regiment as a Riding Master. He saw action at the front including at Passchaendale and Cambrai. 
During the war, he made a reputation as a writer with a series of comic pieces about life at the front which appeared in Punch. These were later published in book form and were followed by a book about his experiences in South Africa which cemented his reputation as a comic writer. He produced a large number of short stories based upon his own adventures and anecdotes heard on his travels and again these won many plaudits. 
Married in 1924, the 'vagabond' never settled down. Determined to write a historical novel, he set off for North Africa and Spain to gather material. Now almost forgotten, the resulting trilogy is rated by the author of this biography as superior to the Poldark series. 
In addition to his works in prose, Crosbie had a talent for poetry and sketching in pen and ink. He had many works published. He was also a fine raconteur with a wide circle of friends, many of whom will be familiar to readers interested in art and literature. 
The Witty Vagabond paints a vivid picture of a remarkable individual and his life and times. Highly recommended.