Lamorna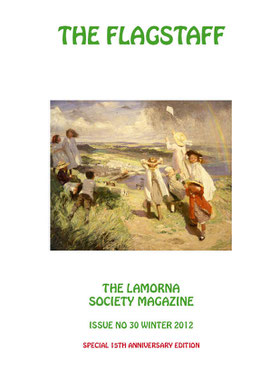 David is the current Editor of The Flagstaff, the magazine of the Lamorna Society, which was formed in September 1997 following Austin Wormleighton's pioneering research into the life and work of John 'Lamorna' Birch.  
The broad aim of the Society is to promote appreciation of the Lamorna Valley in West Cornwall, its art, literature, social and natural history, and to foster interest in the lives and work of the many artists associated with this area.  These include, in addition to John 'Lamorna' Birch, Laura and Harold Knight, Alfred Munnings, Thomas Gotch, Robert and Eleanor Hughes, Frank and Jessica Heath, Benjamin Eastlake Leader, Algernon Newton, Garnet Wolseley, Charles and Ella Naper, Richard Weatherby, John Noble Barlow and his pupils (such as Herbert George, Garstin Cox, the Australian Rose Lowcay and the American Anna Althea Hills), Charles and Ruth Simpson, the Australian, Maude Priest, Stanley Gardiner, Denys Law, Marlow Moss, John Armstrong, John Tunnard etc etc.  Writers include the prolific novelist, Cecily Sidgwick, who features Lamorna in quite a number of her works, her philosopher husband, Alfred, Charles Marriott, and Crosbie Garstin. 
An archive of relevant material has been set up to preserve the rich heritage of this creative valley.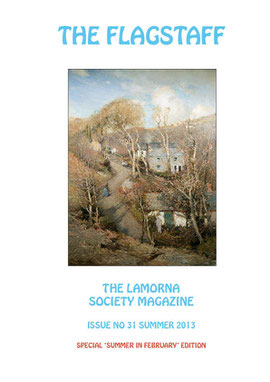 Jonathan Smith's hugely popular novel, Summer in February, based on the love triangle of Alfred Munnings, Gilbert Evans, the local land agent, and Florence Carter-Wood, which ended so tragically, has done much to raise awareness of the Lamorna colony of artists, particularly as it has now been made in to a film starring Dan Stevens of Downton Abbey fame.
The Flagstaff is published twice a year, in June and December, and features important new research, anecdotes of life in Lamorna in past years, reviews of books and exhibitions of interest, an assessment of what interesting paintings and other material has come on to the market recently, as well as accounts of the visits organised by the Society during the year and of its annual gathering in West Penwith each autumn. 
See www. thelamornasociety.com for more information.